My Name Is Pedro-An educator's life dedicated to children in need
Powerful Bio-Doc charts one man's mission to reverse a failing education system with determination and love - now on VOD and DVD everywhere(Amazon, Apple TV, GooglePlay, Youtube, Vimeo On Demand)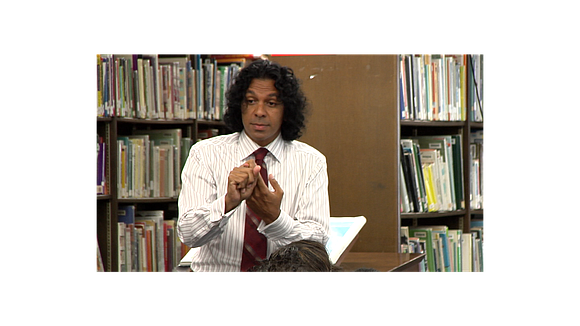 "I want to have an impact on people's lives!" Pedro Santana
Those are the determined words and living testament of Pedro Santana, a Bronx New York product who became a teacher, administrator and savior to a generation of poor black and Latino children who would otherwise have not had a chance in an educational system that is historically stacked against them.
My Name Is Pedro is a tender, yet powerful biographical documentary film of his short, but impactful life. Filmmaker Lillian LaSalle uses the subject's own words, and those of his teachers, administrators, colleagues and community members, to make a cogent argument as to why in-person teaching is so vital, and why teachers make a difference, especially in disadvantaged communities and in these troubled times.

The film is tender. It is moving. It is a monument to our collective and colossal failures of the past. Yet, It is also a touchstone to our promising future.
As a child Pedro was ostracized and marginalized, for his race and his extraordinary and enigmatic intelligence.

Like so many exceptionally bright students, he was mislabeled 'special needs' and stockpiled in a classroom for the educationally impaired. Fortunately, he had a teacher who recognized his unique capabilities and who championed his cause.
"Pedro was in my very first class when I started teaching. He was seven years old, said Yvonne Torres, Pedro's 3rd through 6th grade teacher. " He wasn't the brightest kid in my class, but he tried so hard, and I fell in love with him, and we developed a relationship above and beyond teacher/student. It wasn't about teacher/student. It was about caring for him."
Yvonne Torre's efforts were not lost on young Pedro. "She understood that I was a 'different learner', Pedro said of their relationship. "She was, and still is, my inspiration."
I first saw this film nearly a year ago, before the onslaught of the pandemic. Since then, its importance has been magnified a thousand fold.
My Name Is Pedro charts the development of Pedro Santana, an oddball, exceptionally bright Puerto Rican kid from the Bronx who proved that one person can make a difference.
The fact that he was a minority didn't seem to faze him as he plowed forward with his largely unpopular assumption that poor kids matter. " When you are a 'Believer of Kids,' kids know that, and they allow you to lead them," Pedro often said."
His arrival on the scene was not met without a measure of skepticism. "My kids look at me like I'm something from outer space. I don't watch football. I watch Designing Homes instead. My hair. They say I look like Michael Jackson! "
The fact that Pedro comes from their background means a lot to him. He sees in each of them the promise he saw for himself. "The fact that they come from a poor background or a broken home doesn't mean that they don't have value. That they don't have potential." Pedro believes it's just the opposite. "The system fails because it doesn't make any effort to reach them at their level."
Pedro says he first learned how to maneuver his way through the system through his mother's dealings with welfare department. "I had to lie to the welfare officer and say that my father wasn't living in the home. Yet, he was there all the time, except when he was in jail… He just couldn't stay off the drugs.
"My mother didn't speak English, so I had to translate for her and talk to the welfare officer on her behalf. That's when I learned that I was an 'Ambassador.' I was the Ambassador to my mother, speaking for her, just as I do for my kids in the district."
Pedro Santana quickly went on to become an administrator. In spite of the reservations about his maverick behavior and, at times, seemingly ungrounded decisions.
"We're seeing almost daily examples of success," said Joel Klein, a former administrator. " He was a master at identifying and administering changes in the curriculum.
What you would typically call 'thinking outside of the box,' something hard to do in a complex and tradition-bound system. Pedro took that on and made it work. We saw test scores rise. We saw the beginnings of high school graduation rates go up. We were on the right track!"
It wasn't long before the naysayers came to the fore. Using a trumped-up arrest, the board sought to drive Pedro out of the system. The community quickly rallied to his side. That's where the film really takes off and reveals the fissures of ideology and dogma in public education that persist today.
My Name Is Pedro was filmed several years before the current pandemic, but its message is even more important today.
Things will soon return to some sort of normalcy. Already, teachers are returning to the classroom and facing children very much like Pedro. The teachers have few answers for their unending questions and few resources to address their bottomless need. Only a fierce dedication and belief in the power of self can bridge the gap. By his example, Pedro Santana pointed the way.
My Name Is Pedro is a film that asks a lot of those who watch it. It posits a challenge: Are you prepared to do all that you can to insure our children's future. Consecutively, do the children in your own communities, regardless of their backgrounds, social standing, or ethnicity, matter enough for you to invest your time, your energy and your love. My Name Is Pedro, now on VOD and DVD everywhere. Visit Mynameispredro.com.