Joliet State of City Address postponed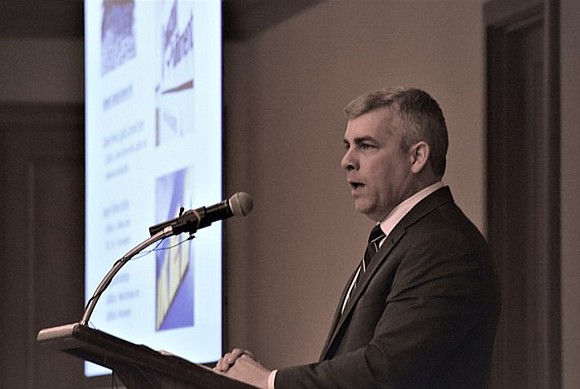 Joliet Mayor Bob O'Dekirk's scheduled State of the City Address planned for Tuesday, Feb. 23 has been postponed to a future date.
The Joliet Region Chamber of Commerce & Industry sponsored event was scheduled to be held virtually due to the COVID pandemic, but had to be postponed and will be rescheduled.
O'Dekirk knows this year's event will be different. "Normally, the speech is delivered to a crowd of several hundred people," he said. "This year there will be a small group in attendance and the speech will be given via Zoom. In the past, I have given the speech a second time at Joliet Junior College, but that will not happen this year. I plan on repeating the speech at a later date at a city council meeting."
The State of the City Address, O'Dekirk said, will focus on a review of 2020, updates on present city projects and what to expect in the future.
The chamber initially partnered with Mayor O'Dekirk to deliver his first State of the City address in 2016 and has continued the update on a yearly basis as a way to look back and forward on city programs and projects. "Although the pandemic has slowed many aspects of life down, the City of Joliet continues to see development and discussions on potential plans. We look forward to this informational update," Chamber President Jen Howard said.
O'Dekirk said when the Address is rescheduled he plans on devoting a fair amount of time focusing on the COVID pandemic, highlighting the leadership the city took throughout the year and continuing today, such as the COVID vaccinations being administered at Joliet West High School. He added that people will "appreciate the breakdown I am preparing."
Joliet has suffered economically from the pandemic, especially with the loss in revenue from the casinos the shutdowns related to the pandemic.
"The City will bounce back economically as our economy continues to reopen," O'Dekirk said, adding that new stores and restaurants have continued to open in Joliet despite the pandemic.
The big accomplishment for the year for Joliet, according to O'Dekirk, was the NorthPoint Development.
"I think one of the real successes from last year was negotiating and approving a deal with NorthPoint," he said. "Not only is this a potential $1 billion investment in our community which will bring thousands of jobs and hundreds of millions of dollars in tax revenue, it also represents the first real step to controlling the truck traffic being generated by the two intermodals inside Centerpoint."
O'Dekirk said he also plans to give a breakdown of the City's finances, discuss economic development and about the decision to have Chicago deliver Lake Michigan water to Joliet, as well as "the civil unrest and riot in Joliet last summer."