Joliet West Speech Team wins IHSA Regional Championship
2/24/2021, 6 a.m.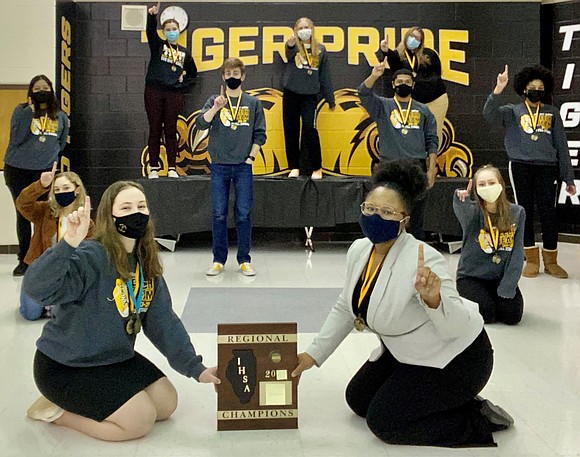 Joliet West Speech Team won the 2021 IHSA Regional Championship for the first time in Joliet West High School history on February 6. The win included all 14 individual events advancing to Sectionals.
Events advancing are Dramatic Duet Acting – Erika Balbuena and Gabriela Reyes (2ndplace); Dramatic Interpretation – Braden Brophy (4th place); Extemporaneous Speaking – Marlie Potocki (2nd place); Humorous Duet Acting – Julianna Byrne and Aniya Davis (1st place); Humorous Interpretation – Karis Posteluk (2nd place); Impromptu Speaking – Kailey Staniszewski (2nd place); Informative Speaking – Megan Krok (3rd place); Original Comedy – Aniya Davis (2nd place); Oratorical Declamation – Jarrin Griggs (1stplace); Original Oratory – Alexis Wajda (1st place); Poetry Reading – Kennedy Dorris (2nd place); Prose Reading – Lilia Villaflor (1st place); Radio Speaking – Tiffany Trizna (1stplace); and Special Occasion Speaking – Julianna Byrne (1st place).
The Joliet West High School Head Coach is Kristin Blake and the Assistant Coach is AJ Galli. "The obstacles of online competition all proved to be worth it when our team made history at Regionals this season," said Blake.