Hock retires second time from Joliet
Mayor vows to have a new city manager within a week
By Rex Robinson | 1/7/2021, 6 a.m.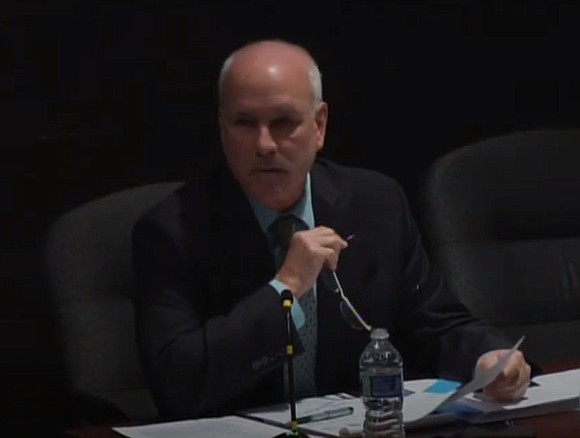 Joliet interim City Manager Jim Hock presided over his last City Council meeting on Tuesday and talked briefly about going out on a high note. Hock's last day as interim city manager is this Friday, Jan. 8.
Hock, Joliet's City Manager from October 2013 until April 2017, was hired back as interim city manager in August of last year to replace former interim City Manager Steve Jones.
Earlier at Tuesday's meeting, the city council voted on various ordinances related to bringing the 265-acre Rock Run development at Interstates 55 and 80 into Joliet. The multi-use project being developed by Cullinan Properties, plans call for a mix of retail office/medical, multi-family, entertainment and hospitality. Part of the project includes plans for a 16-screen movie theater complex known as Regal Cinemas, a variety of casual and fine dining restaurants, fitness center, hotel and lodging. The project is expected to result in an investment totaling hundreds of millions of dollars for Joliet.
John Greuling, president and CEO of the Will County Center for Economic Development has said besides opening up a prime site for development, the Rock Run development will be the catalyst for launching one of the most important mixed-use developments ever for Joliet and Will County.
Also, NorthPoint Development plans to invest more than $1 billion into Joliet with its massive intermodal project planned for more 1,200-plus acres, which the city council recently voted to annex into the city to pave the way for the development.
Hock talked about being in Joliet as its city manager when these projects were first being proposed for the city. He also talked about being back in Joliet to see the recent re-opening of Chicago Street, following a renovation of the thoroughfare and the dedication of the new Will County Courthouse.
"This is my second last city council meeting," Hock quipped, referring to the first time he retired after serving as full-tie city manager for Joliet.
He applauded the city council for taking care of important matters facing Joliet even when divided over various issues at times.
"I know you've risen above it and put the best interest of the city in the forefront and done what's best for the city," Hock said.
Councilman Larry Hug agreed the council doesn't necessarily have to always agree on things to get big projects done. "Our thriving isn't dependent on that," he said. "Rest assured, we are thriving."
Councilman Herb Lande, who was appointed late last year to fill a vacancy on the council, said he had only worked with Hock for a short time, but it was a "delight" working with him. "I wish him the best in his retirement," Lande said.
Councilwoman Jan Quillman said she was glad Hock came back to "help us right the ship. The City of Joliet owes you a great debt of gratitude," she said.
Mayor Bob O'Dekirk called Hock a "consummate professional." His retirement will leave a void at city hall, O'Dekirk added.
The mayor, however, vowed to fill the slot with a new city manager very soon. "I hope to have your spot filled within a week," O'Dekirk said, and then thanked Hock for all his hard work.