Lifeline helping communities thrive
By Rex Robinson | 1/7/2021, 6 a.m.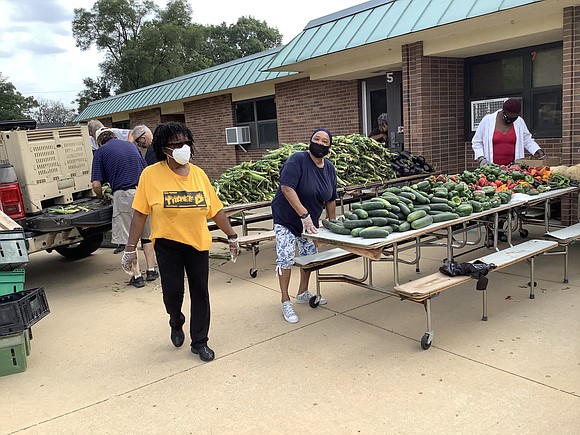 Many families in communities throughout Joliet and Will County have been struggling as a result of the ongoing health crisis.
The Coronavirus pandemic has upended the local economy and in the poorest areas of the county – many who were living check to check to begin with – are finding themselves in need of assistance.
That's where local agencies typically step in to help. From the Salvation Army to the United Way of Will County, the Joliet Chapter of the National Hookup of Black Women to the Spanish Community Center, the Illinois River Valley Chapter of the American Red Cross and countless local food pantries and other smaller non-profit organizations, the region is fortunate to have groups and volunteers willing to help those in need.
Those needs have grown in the months since the pandemic began and so too have the challenges associated with typical fundraising efforts. Many non-profits had to cancel fundraising events due to restrictions on social distancing and with less money in the coffers and more people needing assistance, government grant money became a true lifeline.
"We didn't have the funds to open a food pantry," recalled Debra Upshaw, president of the Joliet Chapter of the National Hookup of Black Women.
Then this past summer, the NHBW, Community Lifeline Ministries, Harvey Brooks Foundation, Forest Park Community Center began receiving opportunities to apply for grant money through the United Way of Will County. Later, federal CARES Act grant money became available through Will County. The four groups worked together and the dream of opening a food pantry became a reality. Upshaw said they first received $10,000 from the United Way of Will County and later the four agencies were able to split a $175,000 grant.
"Next thing we knew we had the money to open this food pantry," Upshaw said. "We've been open since June 15th."
Upshaw brought in Gwen Ulmer to manage the food pantry. Ulmer, a lifelong resident of Joliet who serves on the Joliet District 86 school board and was retired from Silver Cross Hospital, where she worked in community outreach, also is the Central Committee Chairperson with the with NHBW.
Ulmer said much of the progress by the NHBW and the other agencies the group has joined forces with would not have happened without the economic boost from the United Way of Will County and other funding that has come in via the CARES Act money.

"We have touched people we would never have reached and developed an improved relationship with our like agencies," she said. "The co-op is called Labor of Love it is with love that we serve our community. NHBW has always been forward a thing developing programs and projects. We are always ready."
The money has enabled the food pantry to thrive and it's a good thing as the need has increased in recent months, according to Upshaw. The food pantry, 1705 S. Richards St., in Joliet, is open from 11 a.m. until 2 p.m. the second and fourth Tuesday of every month. When it started it was providing food to less than 100 families and individuals and now it has increased to nearly 140, she said.
The monies received from the grants has been a true blessing that allows NHBW to still honor our mission of being 'Advocates for Women and their Families'," Upshaw said.
"We also have been able to use technology such as Zoom to engage our youths and adults in our Multicultural, Community Service Projects, Seniors, Literacy and Mentoring Programs."
New grant money just became available that will provide more help to agencies that serve those who need it most throughout Will County. The Emergency Food & Shelter Program (EFSP) funds, unrelated to any CARES Act funding, totaling $361,728 for what is known as Phase 38 to the United Way of Will County jurisdiction supplements already existing emergency food and shelter programs. The funds are made available through the Department of Homeland Security/Federal Emergency Management Agency and open to non-profit organizations and public agencies, according to Loren Yaksich, Community Engagement Manager for the United Way of Will County.
In the last phase of funding (Phase 37 & Phase CARES), United Way of Will County was awarded $689,196 to seven agencies selected by an independent, volunteer Review Panel.
"The intent of this program is to supplement and expand ongoing existing efforts to provide shelter, food and supportive services and not to substitute or reimburse ongoing programs and services or to start new programs," Yaksich said.
"The purpose was to supplement and expand the work of local social service agencies, both nonprofit and governmental, in an effort to help people with economic emergencies (not disaster related)."
Under the terms of the grant from the National Board, local agencies chosen to receive funds must 1) be private non-profits or agencies of government, 2) eligible to receive Federal funds, 3) have an accounting system, 4) practice non-discrimination, 5) have existing emergency food and/or shelter programs, 6) if a private organization, must have a voluntary board, and 7) submit an online application by the below deadline.
The request for proposal just opened. Completed applications to the United Way of Will County due by Friday, January 22, 2021 at 4:00pm. For application and requirements contact Loren Yakisch at loren@uwwill.org.
Meanwhile, volunteers the NHBW and other agencies around Will County, plan to continue offering food and other assistance to those who need it most.
"Even though things look dim, we are hopeful for the future," Upshaw said.
For information on how to help, Upshaw urges people to visit the NHBW website at www.nhbwjoliet.com.