Steve McQueen's Small Axe Series on Amazon Prime Video Garner's Oscar-worthy praise from critics
LA critics are first to name Small Axe among Best Films of 2020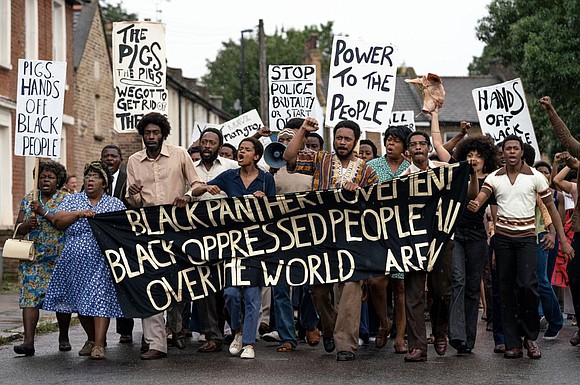 Critics are already giving Steve McQueen's Small Axe anthology high marks and perhaps an Oscar nod even as they remain undecided as to whether to categorize it as a film or TV series.
Of the five short films, "Education" is the quiet, but undisputed masterpiece. It tells the story of 12 year old Kingsley Smith, an on-screen doppelganger to the famed director.
With his geeky glasses, withdrawn personality and scrawny physique, he's an easy target for bullies, be they fellow students, teachers, or a cruel Head Master. In an interview with New York Film Festival Director of Programming Dennis Lim, McQueen revealed that he was dyslexic as a child and that the learning disability often made him a target of derision.
In "Education, "Kingsley's mother works a thankless job as a night nurse. Hunched over her bed in the predawn hours, deep in prayer, one can feel the heavy weight of the world that bears upon her shoulders.
Young Kingsley has his own crosses to bear. We see him taking refuge in the soul-soothing waters of a hot bath. He is weary far beyond his years.
Besides suffering almost daily humiliation, he struggles to read. He's been doomed by the system to attend a "special " school, Britain's way of exercising its de facto education segregation policies.
"Mangrove," the opening film in the series, is a very different story. It offers a sweeping panorama od the life and struggles of Black West Indians in London's storied Notting Hill. The story takes place in the late '60s and early '70s, telling the true story of Frank Critchlow and his effort to establish a cultural beachhead for his countrymen in the establishment of Mangrove as a restaurant that serves "spicy food that appeals to a certain palate," and which also evolved into its socio-political hub and epicenter of a seismic social justice movement.
The Black Panthers arrived on the scene after London police carried out a series of violent raids, sparking the Mangrove March, London's version of Selma. McQueen's camera takes us right to the front where we see and feel every blow of the Constable's truncheon. The resulting trial lasted more than a year and occupied the British public mind much as the OJ trial did here in the U.S.
There's one touching scene when the restaurant shuts down after a particularly brutal series of raids, an old washerwoman offers up her life savings that she'd squirrelled away in an old red tobacco tin. It's her humble offering to help Critchlow keep the Mangrove afloat. It's a scene straight out of Frank Capra's "It's A Wonderful Life!"
Notting Hill is a totally gentrified community now, which has become one of London's most affluent. The only remaining echo of its past glories is the annual Notting Hill Festival that is sort of like Mardi Gras in New Orleans. Mangrove sets the record straight and affirms the proper place of a people and their struggle in history.
Alex Wheatle, Red, White, and Blue and Lovers Rock round out the Small Axe series. To watch the full series of five films, visit primevideo.com.