'Who says good wine has to be expensive?'
By Dwight Casimere | 1/7/2021, 6 a.m.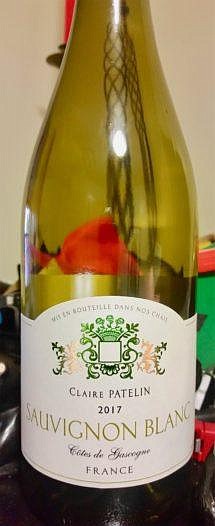 First I'll tell you about the region. The wine is a young Sauvignon Blanc from the Coast of Gascony (Cotes de Gascogne), the sweepingly beautiful area of southwestern France that is known for its long beaches and lush countryside. Dotted with historic villages, undulating paths, ancient footbridges and cascading waterfalls, this is one of France's most soulful destinations.

Now for the wine, Claire Patelin 2019 Sauvignon Blanc is a very clear, pale wheat yellow color. The nose is redolent of lemongrass and apple blossoms. The flavor brims with tastes of Golden Delicious apples, Asian pears and a touch of Key Lime and Honeydew melon. That's just the beginning, because the wine then expresses a creaminess on the mid-palate that possesses a subtle touch of lemon chiffon. Sound wonderful? Well, you'll like the next part even better. It sells for only $5.99.
The Cascogne region shares a border with Armagnac, a premiere Brandy region for over 700 years. If that doesn't give the wine pedigree, nothing does. Don't let the price fool you. This is a real find. Enjoy!