Joliet City Council picks permanent city manager
Council votes 5-3 in favor of Capparelli
By Rex Robinson | 1/11/2021, 6 a.m.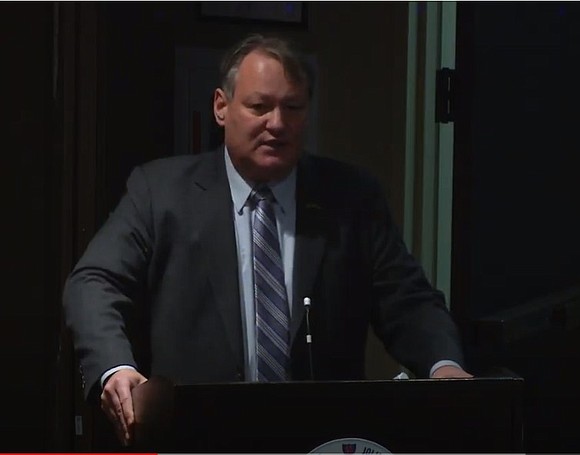 A local attorney and retired U.S. Army Colonel who has managed more than $5 billion in Pentagon contracts is now the permanent city manager for Joliet.
The Joliet City Council voted 5-3 Friday in favor of an employment contract with Jim Capparelli. Councilman Pat Mudron, retiring Councilman Mike Turk and Councilwoman Sherry Reardon voted against Capparelli's appointment during the special meeting.
Mudron said the city council had conducted a nationwide search and there were other candidates who had specific city manager experience. "It's nothing against you, Jim, but at this point, but I vote no," Mudron said.
Capparelli had planned to run for one of three at-large city council seats in the upcoming April election, but bowed out after found out he was in the running for the city manager post.
"I look forward to working with each and every one of you," Capparelli said just before the council voted on his appointment.
Capparelli said he has no special ties to any council members or Mayor Bob O'Dekirk. "You can't make decisions in a vacuum. Personalities are personalities. I don't particularly support one person or another," he said.
O'Dekirk said he was impressed by Capparelli's extensive military and legal experience. Capparelli earned his Juris Doctor Degree from DePaul University, a Master of Science in strategic studies from the United States Ware College and Bachelor of Science in Political Science from the University of Illinois. In addition to his extensive work as a high ranking colonel in the U.S. Armed Services and his work as an attorney in Will County, Capparelli also worked as Director of Operations for Battaglia Distributing Corp. in Chicago, overseeing 55 teamsters and truckers and 70 to 80 warehouse workers.
"Jim brings a breadth of experience on issues and opportunities that confront the City of Joliet," O'Dekirk said. "He has a proven track record in the military and legal field and values active listening and respectful dialogue."
Capparelli said he is "grateful for the opportunity and look forward to working with the Joliet community, Council and staff. Joliet is an outstanding city and I feel very fortunate to be joining the team."
Interim Joliet City Manager Jim Hock's last day was Friday. Hock had served as Joliet's city manager from October 2013 until April 2017. He was hired back as interim city manager in August of last year to replace former interim City Manager Steve Jones.
Capparelli will start his position as the new permanent city manager on Monday, January 11, 2021.