New Documentary takes a dark look at Civil Rights icon's legacy as MLK Day approaches
Excellent Sam Pollard Doc details FBI snooping into Dr. King's personal life-Screens Mon. Jan 11. 7pm CT at metrograph.com/screenings,On IFCfilms.com Jan. 15 On Demand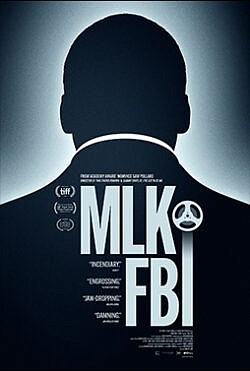 A new documentary takes a dark view at Dr. King's legacy
Dr. Martin Luther King Jr. 's birthday is Friday, Jan. 15. The Federal Holiday marking his birthday, MLK Day, is Monday, Jan. 18.
MLK/FBI screens online Mon. Jan 11, 7pm CT, 8pm ET at metrograph.com/screenings. Presented by IFC films Jan. 15 On Demand at ifcfilms.com
In 1960s America, Dr. Martin Luther King Jr. was one of the most prominent leaders for Civil Rights. The Nobel Prize winner was beloved as the leader of the non-violent movement, but to J. Edgar Hoover, head of the Federal Bureau of Investigation, "he was the most dangerous Negro of the 20th Century!"
That fact is brought forth in stunning clarity and illuminating detail by the excellent documentary MLK/FBI by veteran documentarian Sam Pollard. Using never before released or seen documents, archival footage and photographs with interviews from former and disgraced FBI director James Comey, filmmaker Beverly Cage and archival words form the subject himself, the film details the unrelenting harassment of the famed Civil Rights icon by the FBI.
The surveillance even extended into the bedroom. FBI agents executed elaborate eavesdropping schemes that involved taping alleged trysts that Dr. King had with women in hotel rooms and the homes of hosts who were local leaders in the towns where he held protest meetings and demonstrations.
I had an opportunity to hear one of these so-called 'tryst tapes' from Al Raby at the office the Movement maintained on the West Side during Dr. King's Open Housing campaign in Chicago while I was a student. What I heard was not the civil right's leader's voice at all, but a white man and woman attempting to 'sound black.' You may not be old enough to remember the old Amos and Andy radio show in the late '4os. Before the show went to TV and the producers were forced, by necessity, to have black actors play the lead roles; white actors portrayed Amos, Andy, Sapphire, The Kingfish and Calhoun. You could almost imagine them in blackface mimicking an Al Jolson-ish voice giving a mawkish version of what they envisioned as black talk. As King's wife, Coretta declared upon hearing the tape that was sent in an unmarked envelope to her home, "that is most CERTAINLY NOT, my husband."
One of the most fascinating stories in the film is how there was almost NOT a Dr. King or a Civil Rights Movement. In the late 1950s, while Dr. King was holding a signing for his first book at a Harlem department store, a deranged woman stabbed him in the heart. The doctors at Harlem hospital where the young minister was rushed, told him that he was a hair's- breath away from losing his life.
A Black New York cop, who owned a neighboring bar and jazz club, who had just happened to drop by out of curiosity, prevented anyone from removing the knife; a life-saving move. King would have bled to death.
The film is awash with priceless archival footage and photos that chart the panorama of mid-twentieth century America, swept up in the vortex of social and political change.
Many a celebrated network anchor or reporting legend cut their teeth and gained widespread recognition by covering the movement. There had been nothing like it before. TV, which was still a relatively new medium, brought all the tumult of the Civil Rights movement directly into the nation's living rooms on a nightly basis. The reporters who covered the bloody demonstrations became instant media stars.
A young Joel Daly, a Chicago TV news anchor for ABC7 News in Chicago, for whom I was a news writer in one of my first jobs in professional broadcasting, is seen interviewing King in the private plane hangar in Memphis, where King arrived for what would be his final campaign. MLK/FBI from director Sam Pollard, premiering Jan. 15. From IFC films. For on demand streaming information, visit Ifcfilms.com.
MLK/FBI also screens Monday, Jan. 11, 7pm CT, 8pm ET at metrograph.com/screenings.