Wine of the Week-Mumm Napa Brut Prestige-$24.99
A California clone that dutifully reflects its origins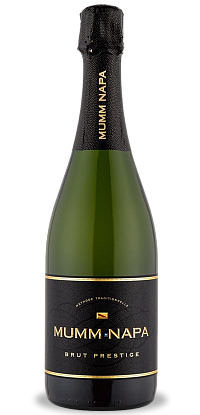 White lilacs, bracing lemon and layers of cantaloupe, ripe apricots and Georgia peaches coupled with ginger snaps and warm Parker House rolls make this a medium-bodied sparkling wine from California that really stands out against the ever-increasing pack.

The fact that the wine is also made from a classic Champagne blend of primarily Chardonnay and Pinot Noir only adds to the complex finish.
Mumm Napa is one of the valleys most renowned sparkling wine producers. Their premium sparkling wines are all made in the intricate French style called Methode Traditionale. This means that the wines go through a second fermentation in which each individual bottle is 'riddled' (turned gradually to ensure equivalent yeast contact. The win is then disgorged (the yeast is removed). The wine is then infused with a 'dosage' of a bit of the original wine and a sweeter in its final stage in order to enhance its flavor profile. Geography is the only thing separating this magnificent sparkling wine from its genomic origin in France.
At well under $30, it is an experience without parallel. For more information visit mummnapa.com.