Local community to honor Dr. King's legacy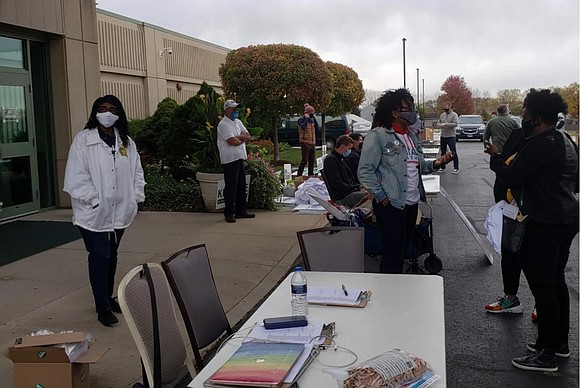 As the nation prepares to celebrate the birthday of Dr. Martin Luther King Jr. on Friday and the subsequent Day of Service on Monday, this year's celebrations have a special meaning for many reasons.
While the fight for racial justice continues in any given year no matter what has happened, this past summer of marches and protests throughout the country related to the killing of George Floyd in Minnesota and the Coronavirus pandemic's impact on African Americans and disproportionate number of deaths, highlighting again the lack of proper health care in communities of color speaks volumes.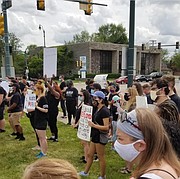 One bright spot that made history earlier this month was that Raphael Warnock, Senior Pastor of Ebenezer Baptist Church, the same church Dr. King was pastor along with Warnock's father, was elected to one of two U.S. Senate seats in a hotly contested Georgia run-off election. He will be the 1st ever African American elected to the Senate in Georgia's history.

"As we celebrate the life of Dr. Martin Luther King Jr., his legacy of fighting for civil rights is the same fight that we face today," said Michelle Stiff, chairperson of the newly formed Will County Democratic Black Caucus.

"As our country is battling the COVID-19 Pandemic, blacks are dying at a higher rate as are whites, due to access to quality and equitable health care for treatment. The senseless shooting of Jacob Blake and tragic deaths of George Floyd, Ahmaud Abery, Breanna Taylor and others that may not have received media attention resulting in massive Black Lives Matter protests across the country fighting civil and racial injustices. The most recent protest in our nation's capital, where people died, protesters attacking elected officials, all signals a breakdown and division of democracy."
The pandemic has changed many things this year including the yearly Dr. King birthday celebration. Pastor and Will County board member Herb Brooks, (D-Joliet) and Bishop Craig Purchase at Mt. Zion Full Gospel Tabernacle in Joliet alone with other local pastors and community members are working out details for a public virtual event honoring Dr. King. "We want to do something especially with all the unrest in the community at this time," Bishop Purchase said. "We're planning to do something to encourage people because there are so many issues people are facing on a daily basis – from unemployment and all the issues related to COVID and all that they've seen occur at the Capitol Building in Washington." A date and time has not been determined at this time for the celebration.
Will County board member Ken Harris (D-Bolingbrook) who also is treasurer for the Will County Democratic Black Caucus, urges people to think about why we celebrate this holiday and its importance. The Martin Luther King Jr. holiday is one of 10 national holidays. Of the 10, two recognize individual people's birthdays specifically.

"It's only fitting that the man of his stature pretty much begins the New Year off with what he stood for and the fight for justice. He epitomizes what America should be," Harris said.
Stiff said she considers herself an optimist and believes there is good in everyone. She urges people to pause, reflect on self and focus on self-care.
"Taking time for self allows us to comprehend our feelings and emotional stability which helps deflect negative feelings," Stiff said. "In celebration of the love and selflessness that Dr. Martin Luther King Jr. exhibited to others, we need to make sure we reciprocate some of that to ourselves. Our country has been tested this past year with the chaos, the uncertainty, and the travesty we are currently experiencing. If I could have it my way, MLK Day 2021 would be 'A day of self-care'."
As the pandemic continues to rage on, the acts of kindness and selfless service related to the celebration of Dr. King's legacy are likely to look far different this year. "The hands-on opportunities are really limited this year," said Will County board member Denise Winfrey (D-Joliet). "People should consider donations to charities that help children and the elderly. Monetary donations are great, but winter clothing, essential items, gift cards in small denominations, virtual book reading, are just a few ways people can help. Whatever people decide to do, the focus should be on helping."
This federal holiday was first observed in 1986. In 1994, Congress passed the King Holiday and Service Act, designating the Martin Luther King Jr. Federal Holiday as a national day of service and charged the Corporation for National and Community Service with leading this effort. The MLK Day of Service is the only federal holiday observed as a national day of service.
Harris said being of service is broad enough to mean many things. He offers some suggestions. "A phone call will go a long way with people who don't have family or friends. Sending postcards, care packages, music, and video may be what a person needs to help them through difficult times. The national day of services is designed to help and inspire someone who is less fortunate than you," Harris said.

Stiff said one of the first things to do is to have grace with one another. "The climate and culture have heightened people's emotions," she said. "There are other ways we can be of service by staying in touch with neighbors, family and friends, delivering meals and groceries to seniors, volunteering at food banks and pantries and giving blood or plasma."
Since becoming involved in Will County politics, Stiff said she saw a need for black people to come together and build power to elevate the voices of all black people. "This was the catalyst of the Black Caucus," she said. "Our mission is to positively influence through education, social awareness, and engagement in the political process pertinent to Black Americans and others of similar experience and situation while promoting the principles and values of the Democratic Party."
This, she added, aligns with Dr. King's legacy. Dr. King advocated to end racial segregation by being influential in the passage of the civil rights act and the voting rights act and black people made huge sacrifices and gains in the 1960s, according to Stiff.

"We are fighting similar issues such as voter suppression, fighting for an equitable education, fighting to have access to quality and equitable health care, and fighting to end systemic policies and behaviors that do not support all people," she said. "I look forward to working side by side with our local and state legislators to make improvements in our Will County Community."