"Atlantis," Ukraine's Foreign Film entry for this year's Oscars and Golden Globe Awards
Atlantis streams at Metrograph.com.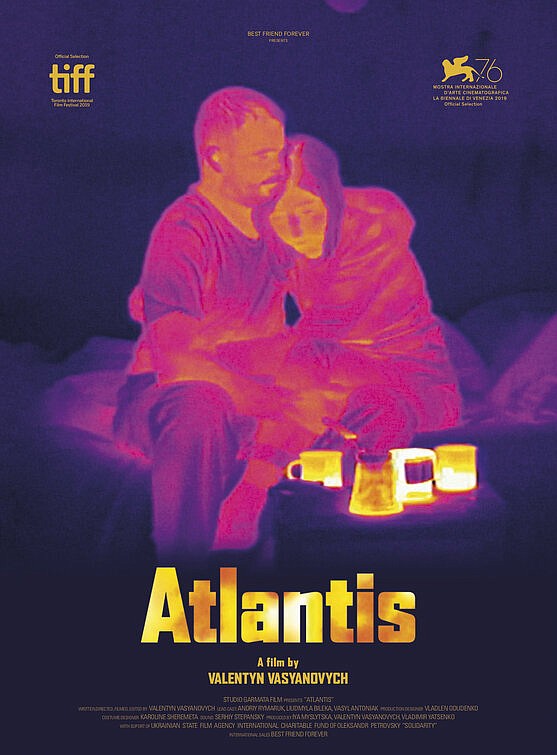 The film opens with the words "2025 EASTERN UKRAINE, ONE YEAR AFTER THE WAR." We see the infrared camera images of men digging a shallow grave and then throwing the body of a badly wounded soldier into it. They bludgeon him to death and quickly shovel dirt over him before escaping. Thus begins Atlantis, the Ukraine's entry to this year's Oscars and Golden Globe Awards.
Ukrainian director Valentyn Vasyanovych brings us a stark realization of a world at war with itself in Atlantis, his homeland's entry for the Foreign Language category of the 78th Golden Globes (2021) and for Best International Feature Film Film Oscar consideration. He also was the film's writer, cinematographer and film editor.
Set in the near future of 2025, it takes us into a bleak world in which Sergiy (Andriy Rymaruk), an ex soldier-of-fortune, suffering from Post Traumatic Stress Disorder (PTSD) lives in a barely habitable world of frigid deserts, where the smell of death and impending doom is everywhere. Its inhabitants are doomed to live in crumbling, bombed out buildings.

Their main sources of employment are strip mines and a local smelt which is on the verge of closing. The barren plains are dotted with landmines, which claim lives at random. Digging in the strip mines often uncovers the unmarked graves of the many war dead.
When the film opens, we meet Sergiy and his friend Ivan (Vasyl Antoniak) as the two men set up life-sized metal cutouts for target practice. They go through various combat scenarios, shooting at the targets with ever-increasing complexity. Tempers flare when things get out of hand and Ivan nearly shoots Sergiy in a combat maneuver. In a fit of anger, Sergiy shoots Ivan in the chest-plate of his bulletproof vest, causing Ivan a great deal of pain.
We learn that Ivan and Sergiy were soldiers-of-fortune in the recent war, but are now relegated to menial, mind-numbing work in the local smelter. Its closure is imminent, as we next see in a scene straight out of George Orwell's 1984.
Hopeless and emotionally drained, Ivan decides he's had enough. When a cruel boss berates his welding skill, he takes a header into the nearest vat of molten steel.

We then see Sergiy in his threadbare room, trying futilely to iron his one, badly wrinkled suit in order to attend Ivan's funeral. His sense of grief and hopelessness is unending. After inflicting pain upon himself, he trashes his room in frustration and storms out into the cold, barren morning.
Driving to work one day, Sergiy spies a military vehicle on fire after driving over a land mine. One of the occupants is dead. Sergiy is able to rescue the woman. Another chance encounter with a disabled vehicle leads him to Katya (Liudmyla Bileka), an archeology student who volunteers for Black Tulip, an organization that exhumes the bodies of the war dead and gives them a proper burial after completing a thorough autopsy. The work intrigues Sergiy, so he decides to sign on.

The work at Black Tulip is grim and monotonous, much like the smelt, but Katya somehow finds in it a greater purpose.
"Sometimes it takes a month or more to find one," she intones over a meager lunch of cold cut sandwiches in the utilitarian break room. "Before the war, I was doing a degree in archeology. So you can say I'm following my profession. It's just that the events are taking place in our lifetime, not thousands of years ago. It's like you're digging up your own history.
"It's hard. But I'm trying to look at it another way. We let the dead say goodbye to their relatives. Finish their life's story and their war. It's important." Sergiy is touched by her words and, even though he still doesn't quite get it, decides to stick around. In the process, he falls in love with Katya.
It is through Katya that he discovers his true self and the meaning of existence. Love is the healing balm of life and the pathway to God's Grace. Ah-men! Atlantis opens exclusively at Metrograph.com.