Leadership change for Joliet Police Department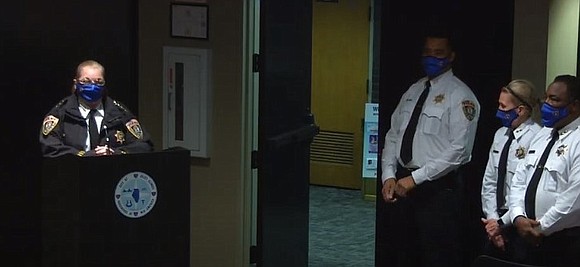 With a new police chief comes changes at the top.
Appointed on Jan. 11, Joliet's new interim Police Chief Dawn Malec introduced her three new deputy chiefs at Tuesday's Joliet City Council meeting.
"I'm absolutely ecstatic to be afforded this opportunity," Malec said. "I'm excited to build relationships with each and every one of you."
Malec appointed Lt. Sherrie Blackburn, deputy chief of administration, Sgt. Carlos Matlock, deputy chief of investigations, and Lt. Robert Brown, deputy chief of operations.
"I'm excited for this opportunity. I'm going to work with the community and let them know that we're here for them and we're planning to work with them," Brown said.
Many things, according to Brown, need to be changed, especially given the bad year the city just had with the pandemic and racial tensions. The pandemic, he said, prevented the department from offering the citizen's police academy. It's important for the department to let people in the community know they are there for them, Brown added.
"We have to get back to procedural justice," he said.
Matlock expressed similar sentiments and said it's time to take the scar off the Joliet Police Department.
As the new deputy chief of administration, Blackburn said she looks forward to bringing her more than 10 years of field training experience to her new position. Recruitment will be a major focus for Blackburn and she explained what her philosophy for hiring new officers would be.
"We want to mirror the community we serve," she said.
Councilman Larry Hug said each of the new deputy chiefs mentioned their excitement in their new positions and that he too was excited for the new command staff.
Former Joliet Police Chief Al Roechner abruptly retired just before Joliet's new City Manager Jim Capparelli began his new position last week. Soon after Malec was appointed by Capparelli, she issued a letter stating that Marc Reid, Darrell Gavin and Joe Rosado, former deputy chiefs under Roechner, were being demoted and reassigned to other ranks. However, The Times Weekly has learned both Gavin and Reid have decided to retire. Gavin's retirement was effective as of January 19, 2021.