President Biden focuses on unity in inauguration speech
By Rex Robinson | 1/21/2021, 6 a.m.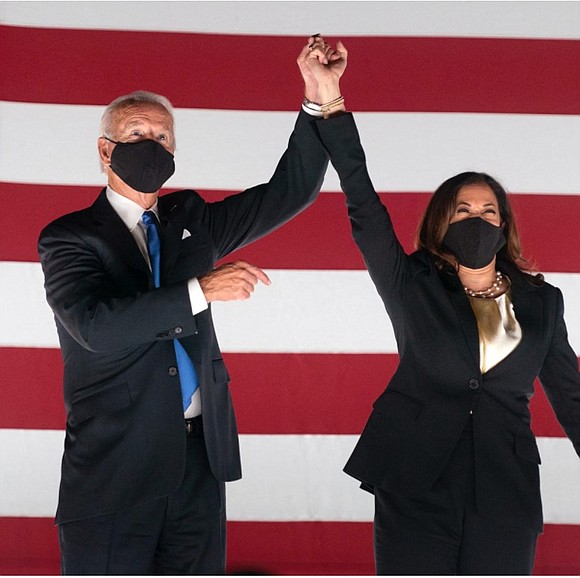 History was made Wednesday with the inauguration of President Joe Biden and Vice President Kamala Harris.
For the first time in our nation's history, Kamala Harris, the first Black, and South Asian American woman took the oath of office as Vice President of the United States of America.
After laying his hand on the Bible and being inaugurated as the country's 46th President, Joe Biden gave an impassioned speech.
"We will press forward with speed and urgency, for we have much to do in this winter of peril and possibility," President Biden said. "Much to repair. Much to restore. Much to heal. Much to build. And much to gain. Few periods in our nation's history have been more challenging or difficult than the one we're in now. … With unity we can do great things."
Former President Donald Trump left office in disgrace on Wednesday morning having been twice impeached, the second time for allegedly inciting the Jan. 6 riot at the Capitol. More than 275 investigations have been launched and about 100 of the rioters have been charged.
Sad is the only way to describe the inordinate number of armed troops, fencing and barbed wire erected around the Capitol building leading up to Wednesday's inauguration. What made it even more somber was that the insurrection on our Capitol on Jan. 6 came from within our own country. "We Have Met the Enemy and He Is Us," is a saying many had recited in reaction to the threats from these domestic terrorists. While it resonates to a degree, it does not account for the majority in this country who voted and made Wednesday's inauguration a reality.
Just as members of the House and Senate prohibited domestic terrorists from preventing them from certifying the Electoral College votes on Jan. 6 and immediately resumed that duty after the rioters were removed from the Capitol, so too did the inauguration go on as planned on Wednesday with all the pomp it and President Joe Biden and Vice President Kamala Harris deserved. Democracy will prevail. May God Bless America and watch over both President Biden and Vice President Harris.
Illinois Attorney General Kwame Raoul issued a statement regarding the inauguration of President Biden and Vice President Harris.
"It has been said but bears repeating: today marks a new day for our nation. I applaud the return of decency to the White House and am encouraged that the Biden-Harris Administration will put our nation on a path toward recovery," Raoul said.
"Over the past four years, my office has engaged with other attorneys general from throughout the country to defend against the bad policies pursued by the federal government. Between anti-immigrant policies, reducing access to health care, resistance to addressing racial inequalities, and attempts to roll back critical environmental regulations, attorneys general have served as a last line of defense against policies that will harm residents. I welcome the leadership of President Biden and Vice President Harris as they reverse some of the damaging policies enacted by the last administration and enact new policies that will help states recover from the devastation of the COVID-19 pandemic.
"I, along with my colleagues, have had the opportunity to meet with Biden-Harris Administration leadership to learn more about the new administration's priorities and approaches to policy. As a result of those meetings, I feel encouraged and confident that our nation will again be set on the right path and our international reputation restored.
"The new administration has committed to working with states, and I look forward to working with them to address the significant challenges our nation faces. Today, decency is restored."