Slate of two candidates for Joliet City Council severed
Wunderlich, Dorris to run independently
By Rex Robinson | 1/26/2021, 9:37 p.m.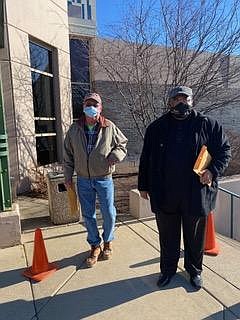 A slate of two candidate for Joliet City Council announced earlier this week is no longer.
Bob Wunderlich and Warren Dorris, two of 12 candidates vying for three at-large City Council seats, had planned to run as a slate, according to a statement released by Erin Gallagher, of Erin Gallagher & Associates, who was doing public relations for the two candidates. She is the volunteer spokesperson for Stop NorthPoint, LLC and has been an outspoken critic of Mayor Bob O'Dekirk and Councilwoman Jan Quillman.
Soon after the statement was posted on a Facebook page for the newly announced slate, Wunderlich decided to pull the plug on it. He said he likes Dorris and has much respect for him but wants to run his own campaign.
Dorris said while he and Wunderlich may vote differently at times, they still share the same values. "Bob has tremendous experience, tremendous integrity, and we both agree that all citizens should be represented, giving everyone equal opportunity, not just the friends of O'Dekirk and Quillman," Dorris said in the statement.
Wunderlich, who has served 44 years on the Joliet Junior College Board of Trustees, said he wants to run a clean campaign and does not want to speak ill of any other candidate running for City Council in the April 6 election and that includes incumbent Quillman, the only incumbent running for one of the three council seats.
"I'm not running against anybody," Wunderlich said.
After the press release went out, Wunderlich said he got a phone call from a Joliet firefighter asking him about it. That, he said, is when he made reached out to Gallagher.
"I called her and said I have to severe my relationship with you and 'please take everything down'," Wunderlich recalled.
Wunderlich's wife works as a social worker for the Joliet Police Department and, he said, he did not want to in any way jeopardize her job.
"It's off the table," he said. "I talked to Warren about it. He's a good man, but we both got lassoes into the NorthPoint thing and I chose to jump out of it."
Wunderlich said he has received endorsements from some of the trade unions in Joliet. Those trades will likely play a role in the construction of NorthPoint's proposed business park.
O'Dekirk blasted Gallagher when he said the press release earlier this week. "I think it is preposterous that any candidate would affiliate themselves with a person like Erin Gallagher, who does not live in Joliet, is currently involved in several lawsuits against the City of Joliet and has no interest in the people of Joliet," O'Dekirk said. "Unfortunately, it is consistent that Warren Dorris would stoop to this low level as he also is asking to represent the people of Joliet while he currently is a Plaintiff in a lawsuit against the people of Joliet."
Gallagher said she is a volunteer spokesperson for a group of Joliet residents and their neighbors in a single — not several— suits. She accused O'Dekirk of being a "bully." ... She said the lawsuits the mayor refers to are "actually on behalf of the citizens of Joliet.so they don't get swindled by a snake oil salesman like O'Dekirk."
Both Dorris and Wunderlich will now run independently.
Dorris is senior pastor at Prayer Tower Church of God in Christ, and started his career at Caterpillar in 1972, where he graduated from a four-year management training program in 1976. He attended Joliet Junior College, Governor's State University and completed extensive study at Moody Bible Institute.
Wunderlich received the Joliet Junior College Susan H. Wood Hall of Fame Award in 2018 for four decades of service. When he started in the early 70s, the college had dirt roads and Quonset huts. He is credited for overseeing the expansion, particularly the downtown city center campus, which opened in 2017. He has been instrumental in maintaining a balanced budget and passing the 2008 referendum.
He recently retired from Wunderlich Builders, where he said he worked every area of the family business since he was 19 years old.