Will County Health Department reports 215 new COVID cases
By Rex Robinson | 1/28/2021, 6 a.m.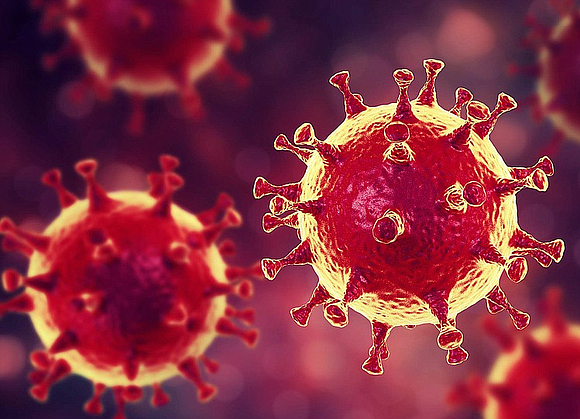 The Will County Health Department on Thursday reported 61,320 COVID cases, an increase of 215 from Wednesday, and 836 reported deaths from the virus, an increase of six from Wednesday.
Last Thursday, the Illinois Department of Public Health moved Region 7, which includes Will and Kankakee counties, to Tier 1 mitigations after the seven-day rolling positivity rate for Will County had reduced to 7.2 percent, and 5.1 percent for Kankakee County. Here's a link to what is allowed under Tier 1 mitigations: https://www.dph.illinois.gov/sites/default/files/COVID19/IL%20Tier%201%20Resurgence%20Mitigations%20-%20January%2022%2C%202021%20Update.pdf
The IDPH on Thursday reported 1,116,372 COVID cases statewide, an increase of 4,191 from Wednesday and
19,067 reported deaths, an increase of 101 from Wednesday.
Gov. JB Pritzker, Michigan Governor Gretchen Whitmer, Minnesota Governor Tim Walz and Wisconsin Governor Tony Evers recently sent a letter to the U.S. Department of Health and Human Services, demanding that the federal government begin distributing reserved COVID-19 vaccines to states immediately.
"In each of our states, vaccine delivery has been much slower than we anticipated, so it is imperative that the federal government distribute the vaccines it is holding on reserve. These vaccines will save millions of Americans from the unnecessary danger and hardship of contracting COVID-19," said Governor JB Pritzker. "Up to now, this vaccine has only been offered to a very specific group of people at very specific location. Our states are ready to work alongside the federal government to expand vaccine distribution so that we can protect the wellbeing of all our residents, families, small businesses and our economy."
According to publicly reported information, the federal government currently has more than 50 percent of currently produced vaccines held back by the presidential administration for unknown reasons. At the same time, the country is losing over 2,600 Americans each day, according to the latest seven-day average.
Earlier this week, Pritzker announced guidelines for the next stage of COVID-19 vaccine distribution across Illinois, Phase 1B. Phase 1B prioritizes equity and lowers the vaccine age to 65 from 75 because black and brown Illinoisans with COVID-19 die at a much younger age than their white counterparts. Distribution of the reserved vaccines by the federal government would accelerate the completion of Phase 1A.
Joliet continues to have the highest number of cases in Will County each week, and for the week of Jan. 4 (the most recent numbers available) the city had 488 cases, according to the Will County Health Department's website. Plainfield had the second highest number at 407 cases, while Bolingbrook ranked third highest with 239 cases.
Staff and residents at long-term care facilities have been receiving the COVID-19 vaccine.
"This vaccine is the most powerful weapon we have in the fight against COVID-19," said Dr. Alexander Stemer, an infectious disease expert who co-chairs Symphony COVID-19 task force, Symphony Care Network owns Symphony of Joliet, a long-term care facility at 206 N. Larkin Ave. "I applaud all our staff and residents who are doing their part to bring this pandemic to an end by getting vaccinated and protecting themselves, their loved ones and the community beyond."
Symphony, according to a spokesperson, is working closely with local, state and federal public health authorities to secure vaccinations for all residents and staff as part of the federal Pharmacy Partnership for Long-Term Care Program. Symphony selected CVS as its pharmacy partner to provide and administer the vaccine in all its facilities when it becomes available.
Hilary Robinson, a nurse at Silver Cross Hospital in New Lenox who's been treating COVID-19 patients since the beginning of the pandemic, was among the first to receive the vaccine.
"This is history being made today. It gives me hope," she said.
The State of Illinois is following guidelines from the Centers for Disease Control (CDC) which is breaking up the vaccination process into four phases, focusing on "critical populations" first.
"Today is a great day in Will County as we witness the beginning of the end of this pandemic," County Executive Jennifer Bertino-Tarrant said , referring to the arrival of the Pfizer vaccine on Wednesday..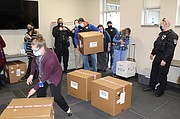 The county's allocation was shared among several healthcare sites to begin vaccinating persons in health care settings who may have direct or indirect patient exposure.
"This has been a long road for all of us, and now we enter into the next stage of our fight against COVID-19," said Sue Olenek, executive director of the county health department. "It is great to have the vaccine out and being distributed, but it will take a long time before the general public is vaccinated. That means we must continue to wear our masks properly, be aware of social distancing, and avoid large groups and gatherings, especially during the coming Christmas and New Year's holidays. As we move through the various phases of the vaccination process we ask for the public to educate themselves and be patient."
Additional deliveries of the vaccine will be available in the coming weeks for residents of long-term care facilities and essential frontline workers, including first responders, grocery store workers, funeral directors, day care workers.
As the first trucks carrying the new COVID vaccine started shipping out throughout the country earlier this week from the Pfizer plant in Michigan, health officials in Will County had already started preparing.
The first shipment to Illinois is from the Strategic National Stockpile of 109,000 COVID-19 vaccine doses.
The first phase of vaccinations will include health care workers, physicians, nurses, nursing assistants, environmental services, respiratory technicians, dentists, hygienists, long term care staff, assisted living staff, home caregivers, morticians, funeral directors and coroner staff who are involved with the deceased, according to Will County Health Department spokesman Steve Brandy.
Will County Health Department Epidemiologist Alpesh Patel said there's no reason to be skeptical of the vaccine. An FDA analysis of the vaccine's safety and effectiveness on people aged 16 and older found "no specific safety concerns" that would preclude the vaccine's use. Some mild to moderate side effects are common — mostly swelling, pain, redness at the injection site, fatigue and sometimes including fever that resolves within about 24 hours.
"There's no particular reason based on the science to be concerned about long-term side effects, but careful monitoring over time will be needed," Patel said.
Debra Robbins, Silver Cross Hospital's director of marketing and community relations, said the availability of a safe and proven vaccine is "the most important development in our ability to combat the spread of COVID-19."