AILEY FEATURE DOCUMENTARY 20TH TRIBECA FESTIVAL
Portrait of Alvin Ailey in his own words in theatres Friday, July 23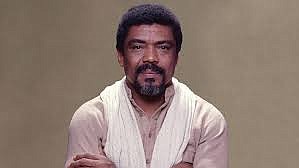 Dancer and choreographer Alvin Ailey changed the very nature of modern American Dance. He founded the Alvin Ailey American Dance Theatre in 1958. After its debut of his first masterpiece, Blues Suite at the 92nd Street Y and the subsequent premiere of what would become the company's signature piece, Revelations, also at the 'Y', it was apparent that Ailey had changed the very language and structure of modern dance theatre.
Ailey, directed by Jamila Wignot, features the story of this dynamic innovator in his own words, and those of his life-and-career long collaborators, Judith Jameson, George Faison and Carmen De Lavallade, among others.
Born dirt poor in rural Texas at the height of the Great Depression, a near fatal accident almost resulted in their not even being an Alvin Ailey to celebrate. He nearly drowned in a local watering hole. The boyhood friend that saved him threw his body over a shivering Ailey. "We rubbed up against each other," Ailey recalled. It awakened a burgeoning sexuality that would later be defining.
When the family moved to Los Angeles when he was just 12 years old. It was there that he discovered dance theatre when he saw the works of Joliet-born Katherine Dunham and her Dance Company and the Ballet Russe de Monte Carlo at the Los Angeles Philharmonic Auditorium. In 1949, his interest in dance became serious when his classmate and good friend Carmen De Lavallade dragged him to the Melrose Avenue studio of Lester Horton, who would become his teacher.
His association with Carmen De Lavallade proved fruitful. George Balanchine protégé Herbert Ross to join the Broadway show House of Flowers on Broadway recruited the two. It was there that the two met Trinidadian-born Geoffrey Holder (who married De Lavallade, and went on to fame on Broadway and in films-Doctor Doolittle (1967) James Bond's Live and Let Die. Two Tony Awards for direction and costume design of The Wiz, and, of course, as the 'Cola Nut' spokesman for the 7Up 'uncola' commercials of the 1980s.


In 1958, Ailey formed his own company. His long association with the State Department cemented his worldwide fame and saved the company just as it was on the verge of distinction.
Revelations was spawned by his recollections of the faithful, donned in white and carrying umbrellas, strode in a trance-like procession to the river's edge, chanting and singing on the way to Baptism. It would become Ailey's signature piece and his artistic gift to the world.
Ailey premieres Friday, July 23. From Insignia Films. Visit insigniafilms.com/Ailey for more.