No Ordinary Love by Chyna Robinson
Now Streaming everywhere, visit NoOrdinaryLoveMovie.com or Facebook at No Ordinary Love, the movie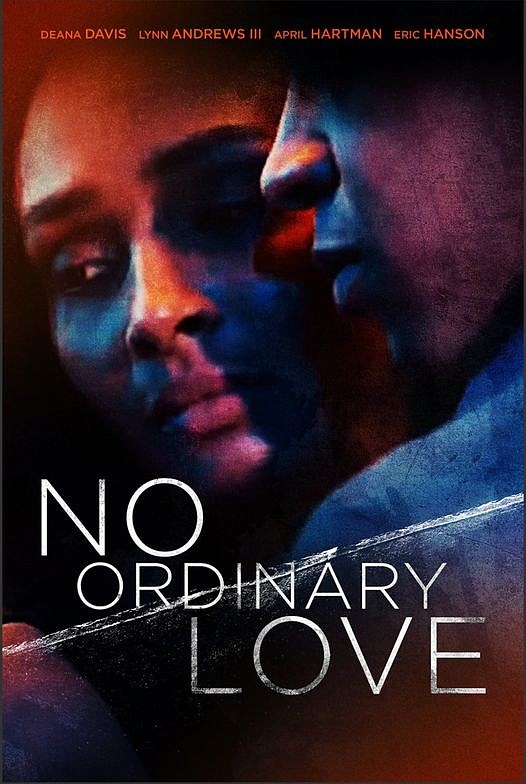 No Ordinary Love is a narrative feature film that explores one of the most troubling problems of our time that is often only spoken of in whispers. Although the film is seen through the experience of two couples, one Black and one white, it is not a film about race. Instead, it explores a problem that pervades our society at all levels, regardless of race or class. It is about Domestic Violence.
In No Ordinary Love, Director, producer and writer Chyna Robinson (pronounced like the country China), in her first narrative feature outing, takes us into the very eye of the relationship storm in no-holds-barred fashion. Events unfold rapidly as the relationships devolve into tragedy. Though nothing is shown explicitly, the consequences of domestic abuse are laid bare. Some of the scenes, enacted in raw detail by the superb actors, are just plain hard to watch.
Lynn Andrews III (Robinson's short Greenwood: 13 Hours-2019, Cry-2013) is a local Fort Worth, Texas actor who plays Derrick Anderson, a Black police officer who brings his stressful work home with him. Local first-time actress De'Ana Davis plays his devoted wife, Tanya. She can't for the life of her believe that the man whose hands once taught her to play romantic tunes on the piano is now the man who beats her on the regular.
Established actor Eric Hanson (Challenger Disaster-2019, Brady's Lot-2017) is masterful as Michael Jeffries, the charismatic local minister with a swagger in his walk and a wandering eye. April Hartman (Silhouette-2019, One Mississippi-2015) is his long-suffering, but devoted wife, Elizabeth. She also works as a counselor at his church and that is where the paths of she and Tanya Anderson cross with life-changing results for both.
We first meet Rev. Michael, the Saint-and-the-Sinner Man, at a church garden party, swirling a glass of Merlot in one hand and leering at a shapely young woman who catches his eye. Elizabeth grows irritated and lets him know in a heartbeat that she's none too pleased. I don't have to tell you that the very next scene is a showdown in the bedroom.
Derrick Anderson is a local beat officer who brings his frustration at the mean streets into the sanctity of his home. With a precocious, pretty little daughter, a House Beautiful home and a drop-dead gorgeous wife, you'd think he'd be thanking the Heavens above. Instead, he's forcing his wife to wear sunglasses to her battered wife counseling sessions at the church.

James J. Duhon's intimate Cinematography goes directly into the kitchen and the bedroom where their secret lives of sorrow emerge. Lightning fast editing by Meagan Waggoner gives the film its urgent pace.
Chyna Robinson made her short film debut in 2017 with the Award-winning Greenwood: 13 Hours (Cannes Festival Du Film Panafricain, Las Vegas Black Film Festival, Capital City Black Film Festival, among others) on the 1921 genocide on 'Black Wall Street.'
No Ordinary Love debuted at the Memphis Film Festival where it won Audience Choice Award and Best Screenplay. Since then, it has won festival awards around the world.
The experts say that the moment the abused party decides to leave the relationship is the most dangerous. They say that moment often leads to violence, even death.
The Times Weekly spoke to director Chyna Robinson via Zoom from her home in Fort Worth, Texas about the basic message of the film.
Chyna: When it's time to leave, is THE most dangerous time for a victim of abuse. Because, that's when your abuser has lost control…and abuse is all about Power and Control. When they feel that they are losing that control that is when they become desperate to hold onto it.
TW: You were one of the standout directors as was your film at the African American Film Festival. When I looked at the film, I realized that this isn't a Black film. This is a film that everyone can relate to because it deals with an issue that you hit really hard, with a broad brush stroke. Tell me about the human story that you are trying to portray.
Chyna: It is a universal story, because Intimate Partner Violence is pervasive. It doesn't matter what race you are, what color your skin is, what your background is, how much you make. Whether you live in a gated community or a trailer park, it does not matter. So, it was important for me to convey that fact in this film. What I did was set up characters that were, on the surface, on completely opposite ends of the social spectrum.
One of my male characters is a police officer. We do know that, although not all police are bad, those among the top three abusers are policemen.

You can look at their use of weapons. They're trained to use lethal force to resolve problems. If you are in a home with one of them who is an abuser, there are weapons available. Who do you call when your abuser is a policeman? Really. Who do you call? His co-workers?!
The other main character is a pastor. I live in the Bible Belt where spousal abuse is an important issue and we see it a lot where I am.
TW: I can relate to what you're saying from experiences in my own family. I have relatives who are policemen and I can tell you that they are trained to resolve situations with violence. There's a tendency to bring a lot of that violent attitude home. One of the most telling lines early in the film was when the wife of the police officer tells her sister, "He hit me like I was somebody out on the street!" That line said it all.
Chyna: When you spend time in your inner relationship with someone, and at first, they're loving and they're caring, and then, all of a sudden, it changes, they become a stranger to you and they treat you like a stranger.
It's really difficult to understand and wrap your head around it. You say to yourself, 'Wait, but he loves me and I love him. You try to justify it by saying 'It was a fluke! '
The first time may have been a fluke. Something might have happened that day where he was stressed. But if it repeats, then there's a problem.
We know that things are going on with the police. You see it every day on the news. It's especially so for Black police officers, because they get it from all directions.

The fact is, they're not always hitting this guy on the street. They're bringing it home. It's not an anger issue. It's a control issue.
TW: How much of your own experience did you use as a basis for No Ordinary Love?
Chyna: The story is not about anyone I know, or anything that I've experienced. However, I have been in manipulative relationships. I've been lied on. I've been done wrong. I've stayed way too long in relationships. So that mentality, I used in my characters. So when they knew that this was not a good place for them to be and said, 'Hey, it's time for me to leave,' it's already too late. They then stay because they're hoping for the good times.
They see the good in the person that they're with. They really want to stay with that person, because they love them. They just want the abuse to stop. So, once I understood that, I was able to pull in my own experiences and merge them with the facts that I know about domestic violence.
When it's time to leave, is THE most dangerous time for a victim of abuse. Because, that's when your abuser has lost control…and abuse is all about Power and Control. When they feel that they are losing that control that is when they become desperate to hold onto it.
TW: You're really touching on a nerve when you talk about violence. Right now, we're seeing it everywhere. There's almost an epidemic of violence that's taking over on the heels of the COVID pandemic. We seem to have gotten rid of one pandemic and replaced it with another one—violence!
Chyna: I know. I'm right where it is, in Texas. We have on our neighborhood Facebook page where someone said 'Those kids crossed my grass and I'm locked and loaded!' I said to myself, like 'Wait. You think this is acceptable?! You're ready to shoot some kids who cross your grass or who play Ding Dong Ditch. Like, you're ready to shoot a child for ringing your doorbell.
TW: Tell me about your actors. They seemed to be wrapped up in their characters. It didn't seem like I was watching a movie. I felt as if I was being dropped right into someone's living room and I was sitting right there on their sofa watching it all unfold right before my eyes.
Chyna: Our actors worked so well because they took these roles and they actually became these characters. The Black lead, De'Ana Davis, this is her first time acting. She's a model. She blew me away. I found out later that she had been a police officer, so maybe she was tapping into something from her own experience.
A lot of times the actors tap into things in their own lives. Our other lead, April (Hartman), it's not a secret that she was in an abusive relationship before. She left her house. She left her dog. So she was able to go back and pull from that.
Eric Hanson and Lynn Andrews III were also fantastic. In fact people in the industry are trying to track them down. The actors and the film have won awards all over, both here in the states and overseas in Germany, in London. This film really resonates with everyone.
No Ordinary Love streams everywhere, i.e. Prime Video, Apple TV, etc. Visit NoOrdinaryLoveMovie.com. Find it on Facebook at No Ordinary Love, the Movie. Troubled by an unhealthy relationship? Call the National Domestic Violence Hotline, 24/7 at 800-799-SAFE (7233).