School districts receive millions to assist with fall reopening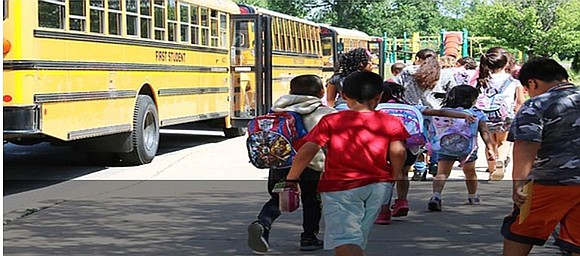 School districts throughout Will County and beyond have received millions of dollars in federal funds for economic relief from the COVID pandemic. That funding is part of the American Rescue Plan approved by congress and signed by President Joe Biden.
Nationwide, K-12 schools received more than $122 billion in funding to assist in reopening schools safely this fall and another $10 billion to cover the cost of screening testing for reopening. Illinois State Board of Education has allocated $512 million from the Elementary and Secondary School Emergency Relief (ESSER) Fund directly to Illinois school districts to support their local response to the COVID-19 pandemic and prepare for the challenges of the upcoming school year. School districts receive reimbursement on a rolling basis upon their submission of expenditure reports. ISBE will direct the remaining ESSER funds in the following seven categories: $33.3 million for laptops and tablets; $7.1 million for internet connectivity; $6.5 million for virtual coaching in support of an estimated 4,000 new teachers who will be entering the teaching profession this fall; $6.5 million for professional development; $2.8 million for state administration; and $685,000 for entities that are not eligible for the direct funds due to ineligibility for the federal Title I program.
Officials from area school districts are working with their staff as well as parents to figure out how to best spend that money.
District 202 plans to spend about $22 million in anticipated federal COVID-19 relief funds over the next two years on numerous academic and capital improvement projects.
The district expects to receive about $21.7 million through the Elementary and Secondary School Emergency Relief (ESSERS) grant. The money can only be used on COVID-related expenses. All Illinois school districts will be receiving ESSERS grant monies based on student enrollment.
At least 20 percent, or about $4.4 million, must be used on academic programming. The rest can be used on COVID-related expenses such as PPE and capital projects. All funds must be used by 2023.
Joliet Public Schools District 86 is seeking community input for the use of about $29 million in federal funds as the school district finalizes plans for the return to full in-person learning for the upcoming 2021-2022 school year. Unless state or health guidance change, all District 86 students will return to school on August 18, 2021.
Supt. Theresa Rouse presented a comprehensive reopening plan for the 2021-2022 school year at the June 9th Board of School Inspectors Meeting. The plan includes ideas to utilize the Elementary and Secondary School Emergency Relief (ESSER III)/American Rescue Plan (ARP) funding. The plan focuses on four areas to ensure the safety of District 86 students and staff, as well as address unfinished learning that may have occurred during the COVID-19 global pandemic.
The four areas of focus include Academic and Digital Learning Supports, Social/Emotional Supports for Students and Staff, Health/Safety Resources, and Capital Improvements. District 86 officials are seeking parent and employee feedback by July 13, 2021 as plans are finalized for the ESSER III/ARP funding. District officials said the anticipated $29 million must be spent by September of 2024.
"We encourage everyone's input as we work towards returning to school," Supt. Theresa Rouse. "Thank you for your continued support as we navigate our way through the COVID-19 pandemic."
A copy of the current plan, including the proposed use of the government funds, and feedback forms are available on the school district's website at https://www.joliet86.org/students-parents/return-to-learn/.
District 86, currently the fourth largest elementary school district in Illinois, serves approximately 10,500 students in grades PreKindergarten through eighth grade at 21 schools in the city of Joliet.