Warehouse Workers hold rally in opposition to NorthPoint development
By Rex Robinson | 3/11/2021, 6 a.m.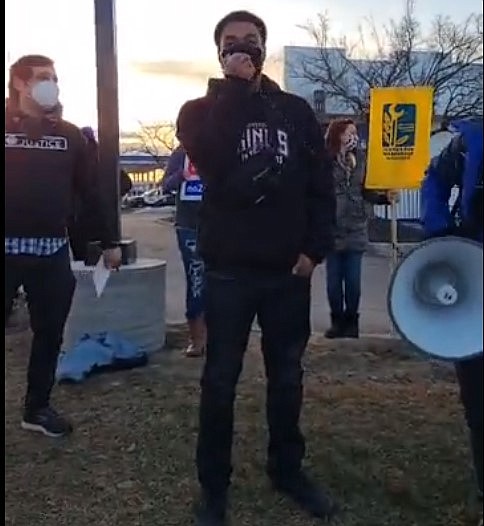 From the start, Joliet city officials have faced severe resistance from groups in and around the community on its plans to bring yet another huge warehouse development to the City of Champions.
Groups opposing NorthPoint have remained vocal despite the Joliet City Council's approvals aimed at moving the proposed development forward. These groups are refusing to back down and have vowed to continue to fight.
Recently, 'Say No to NorthPoint' and Warehouse Workers for Justice – held a combined rally at the corner of Jefferson Street and Larkin Avenue, one of Joliet's busy intersections.
They posted a banner that read "DON'T ROLL OVER US. NO 2 NORTHPOINT," and changed "Justice for all. No to NorthPoint." The vocal group, throughout the rally expressed through many speakers the concern over warehouse developments approved to build in the area who continue to pay low wage temp jobs.

Despite many hours of opposition from residents of neighboring communities during public hearings over a span of two days, the Joliet City Council in mid-December of last year gave the green light to NorthPoint Development for an annexation agreement, special use permit and rezoning requests. The City Council's 6-2 vote in favor of the NorthPoint Plan paved the way for East Gate Park Chicago, LLC Compass Business Park, a warehouse development planned for 1,260-plus acres a half-mile south of Breen Road and east of Chicago Road. NorthPoint continues to acquire the land needed for the development.
Joliet Mayor Bob O'Dekirk and other members of the City Council who favor the development have said it will bring a huge economic boost to the city, construction jobs and other permanent jobs.

Roberto Clack, with the Warehouse Workers for Justice, said both the developer and city officials are being dishonest about any benefits NorthPoint will bring. NorthPoint, he said, is just another warehouse developer coming to Joliet to bring "low paying jobs with staffing agencies that take advantage of everyone, especially our Black and Brown communities."
"What we need is a different way forward and that's what Say No to NorthPoint is all about," he said. "We want change and we're going to demand change…. We're going to continue to protest. This is going to change. We're going to knock on neighbors' doors, We're going to write our elected officials.
"Why can't they pay everyone $30 an hour? Why can't we have pensions? Why can't we have benefits?"
Delilah LaGrett, of Joliet, represents Say No to NorthPoint, and said the group is fighting for better jobs, a better community and to "have our voices heard."
"The traffic and congestion that we already experience affect our quality of health and community as we travel on dilapidated roads and breath in diesel fumes," she said. "It doesn't make sense to add more when we haven't been able to face the problems we've already got."
LaGrett referred to the existing CenterPoint warehouse development already operational in Joliet.
Part of NorthPoint's plan is to build a bridge over Route 53 and create a closed loop system to reduce the truck traffic on local roads.
"Make no mistake," LaGrett said, "NorthPoint's bridge would only exist to make them money. This bridge is not for the good of the community. … They are only hear to exploit the community and make a profit off the backs of temp warehouse workers."
Devin Cooley, with the Sunrise Movement Joliet, also spoke at last Friday's rally. "When we say 'No to NorthPoint' we're saying no to more than just that. We're saying no to more of these temp jobs that we can barely survive on. We're saying no to more of these trucks driving through our community polluting the air that we breath. We're saying no to these corporations that think they can just come into our community and take advantage or our people. It's bigger than just NorthPoint. It's about what's more important – profit or people? And we all came here today to let them know that our people come first."
Meanwhile, Stop NorthPoint LLC, another group opposed to the city's plans for NorthPoint, recently filed a 10-count complaint in the Will County Circuit Court aimed at stopping the development from moving forward. The first two counts of the complaint refer to nuisance, contending the development will change the character and landscape of the neighborhood and region, the overall health and welfare, and public safety, including pollution, noise, vibration, smog, soot, light pollution, and overall quality of life. The first count alleges a private nuisance for the property owners who live in the immediate proximity or adjacent to it.

A second count alleges a nuisance to the public, including people who visit Abraham Lincoln National Cemetery, Midewin National Tallgrass Prairie and historic Route 66. It also alleges that the proposed development, warehouses and trucking terminal will be detrimental and injurious to the public health, safety and peace.
Erin Gallagher, of Manhattan, is the volunteer spokeswoman for Stop NorthPoint, LLC., and has led the charge in attempting to stop the proposed development by holding press conferences to get the word out about the group's legal challenges to NorthPoint.