Most District 202 students to return to in-person learning
thetimesweekly.com | 3/12/2021, 6 a.m.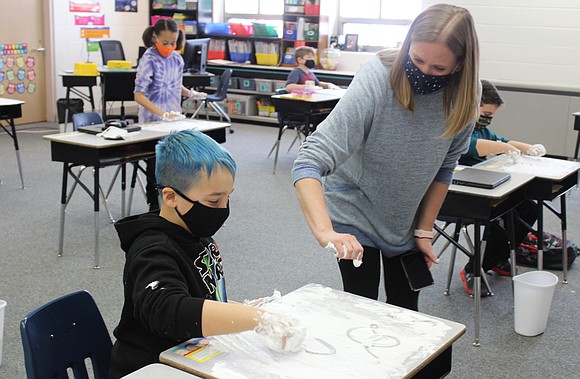 Most students in Plainfield Community Consolidated School District 202 are expected to return to in-person learning for five half-days a week starting April 7, 2021.
District 202 Students have not been in school for five days a week since mid-March 2021.
The shift back to something resembling a "normal" school schedule results from three critical changes which together make it easier to safely return more students to the classroom.
First, On Tuesday, March 9, 2021 the Illinois State Board of Education released new pandemic guidelines reflecting the recent updated Centers for Disease Control (CDC) guidelines.
These new guidelines significantly change some of the key guidance or requirements – most especially regarding social distancing -- that have restricted our ability to return more students to more in-person learning. School districts now must maintain three feet between students rather than six feet.
"That shift is a game changer for a district as big as ours," said Superintendent of Schools Dr. Lane Abrell. While some districts have loosened their adherence to the 6-foot guidance, District 202 insisted on following it in the interests of student and staff safety.
"Every option we looked at to get more kids back to in-person learning simply didn't work because we don't have enough space in our buildings if we have to keep kids six feet apart," Abrell said.
At the same time, between 46-74 percent of families, depending on school level, indicated in a new Educational Choice Form that they preferred their students return in person for as much time as possible.
Finally, about 72 percent of all District 202 staff will have received both doses of the COVID-19 vaccine by March 17, 2021. The vaccines need about two weeks to fully take effect. That period ends during the district's spring break, so April 7th is the first day the new schedule can start.
"The vaccinations significantly improve our ability to safely return students to the classroom as quickly as possible," Abrell said. "We thank our staff for making that choice for themselves, and for our students, schools, and the community."
District 202 still will not be able to bring students back for a full school day or serve lunch at school because of ongoing space, mask, and social distancing limitations.
However, Abrell said, returning five half-days is a highly anticipated, and very welcome step in the right direction.
"We have said from the beginning that everyone involved wants all students back in our classrooms as soon as possible when it was safe to do so," Abrell said.
District 202 plans to return to its traditional schedule of in-person learning on August 18, 2021 for the beginning of the 2021-22 school year, Abrell said.
"We miss seeing and hearing the kids, and we know they need to be here," he added, stressing that everyone still needs to follow all safety protocols as we continue into and through this spring.