Social distancing rule change allows more schools to open
By Rex Robinson | 3/18/2021, 6 a.m.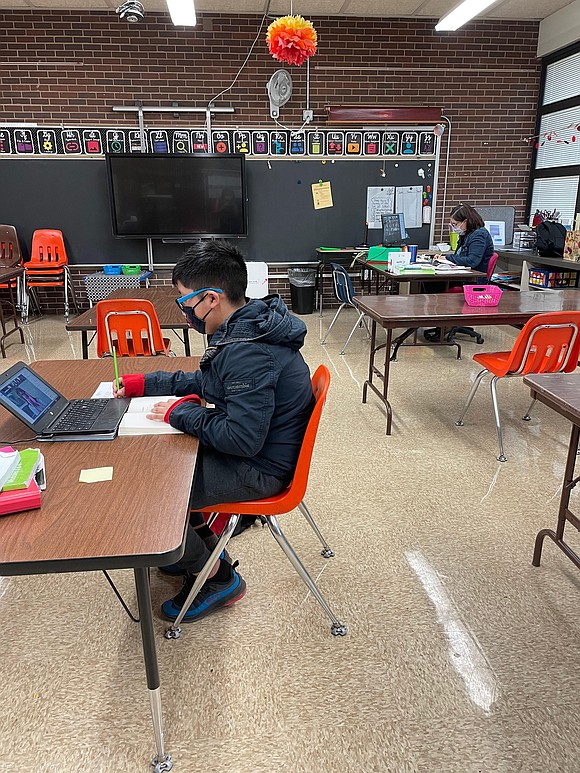 While most school districts throughout Will County were forced to close when the COVID pandemic first hit last March, many of them have since re-opened.
It's all by degrees, however, in that most are not fully re-opened and are doing a combination of remote and in-class learning.
Most students in Plainfield Community Consolidated School District 202 are expected to return to in-person learning for five half-days a week starting April 7. District 202 students have not been in school for five days a week since mid-March 2020.
The shift back to something resembling a "normal" school schedule results from three critical changes which together make it easier to safely return more students to the classroom, according to district officials.
On March 9, the Illinois State Board of Education released new pandemic guidelines reflecting the recent updated Centers for Disease Control (CDC) guidelines. These new guidelines significantly change some of the key guidance or requirements – most especially regarding social distancing – that have restricted our ability to return more students to more in-person learning. School districts now must maintain three feet between students rather than six feet.
"That shift is a game changer for a district as big as ours," Supt. Lane Abrell said. While some districts have loosened their adherence to the six-foot guidance, District 202 insisted on following it in the interests of student and staff safety.
"Every option we looked at to get more kids back to in-person learning simply didn't work because we don't have enough space in our buildings if we have to keep kids six feet apart," Abrell said.
The plan to move students back into classrooms in neighboring Joliet Public Schools District 86, however, is far different from District 202's.
District 86's hybrid plan brings back groups of students at all of its schools, but at a much slower pace. In January and February, special needs students began in-person instruction a few days a week. Additional students have been added during the month of March to address needs related to engagement and/or internet connectivity. More students are expected to be added to these groups after spring break, as space allows, according to district officials.
In addition, English Language Learner (ELL) students (approximately 2,800) have been invited to school for the state-mandated ACCESS tests and all students in grades 3 through 8 (approximately 6,800) will be asked to take the mandated IAR state assessments at school in April and May.
"Principals have done an outstanding job reaching out to school families to meet the needs of students who may be struggling in remote learning," District 86 Supt. Theresa Rouse said. "Parents are encouraged to contact their child's principal if they need additional support or have questions about the next level of student groups."
District 86, officials said, continue to follow the CDC, Illinois Department of Public Health, and Illinois State Board of Education guidance for face coverings, social distancing, contact tracing, and cleaning protocols.
"The safety of our students and staff remains our top priority." District 86 Board of School Inspectors President Tonya Roberts said.
District 86 received some CARES Act money to purchase 600 tables for its Pre-Kindergarten, nearly 6,000 Chromebooks for students in grades Kindergarten through 8th grades, 1,088 hotspots, 1,100 HEPA Air purifiers for all classrooms and office areas as well as PPE equipment, winter uniforms for Nutritional Services staff and 50 bottle filling stations.
District officials said many factors and data are reviewed weekly regarding hybrid vs. remote learning including COVID-19 data (including the county, city, individual Zip Code areas and district), student attendance, vaccination information, CDC/DPH/Will County Health Department guidance, bus transportation, and classroom spaces. The district covers more than 26 square miles in Joliet, includes 21 schools, and 10,448 students and is the 4th largest elementary school district in Illinois.
From August 24, 2020 to March 5, 2021, 148 staff members tested positive for COVID-19 and 1,075 were quarantined due to COVID symptoms, district officials said.
In District 202, between 46 and 74 percent of families, depending on school level, indicated in a district survey that they preferred their students return in person for as much time as possible.
About 72 percent of all District 202 staff had just this week received both doses of the COVID-19 vaccine. The vaccines need about two weeks to fully take effect. That period ends during the district's spring break, so April 7th is the first day the new schedule can start.

"The vaccinations significantly improve our ability to safely return students to the classroom as quickly as possible," Abrell said. "We thank our staff for making that choice for themselves, and for our students, schools, and the community."
School districts are expected to benefit greatly from the $1.9 trillion American Rescue Plan recently signed into law by President Joe Biden.

The American Rescue Plan invests nearly $130 billion directly in K-12 education to help schools operate safely and make up for lost learning time. Congresswoman Lauren Underwood (D-IL) said in her 14th Congressional district alone, school districts will receive approximately $169 million.
The stimulus package provides an estimated $1.3 billion to support Illinois institutions of higher education and help their students cope with the financial strain caused by COVID-19.
It also includes $40 billion to stabilize the childcare system and make childcare more affordable for families, according to Underwood.
In another nearby district – Valley View School District 365U, which has schools in both Bolingbrook and Romeoville – families have the option of hybrid or remote learning for their children. District officials refer to this as "phase four" of its Returning Together 365 plan.
At a school board meeting held earlier in March, Supt. Rachel Kinder said she cautiously optimistic in moving forward to in-class learning for all.
"It's not time to let our guard down," she said. "It's time to double down on all our strategies that we are implementing to ensure we keep our schools safe an open and we continue to build upon our successes."