Concern over Jefferson Street bridge project delays
Civic leaders concerned it will hurt businesses
By Rex Robinson | 3/22/2021, 6 a.m.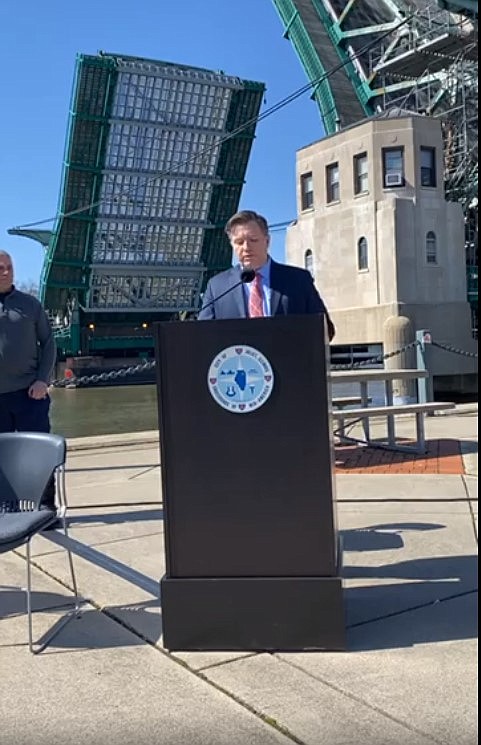 Business and civic leaders joined Joliet Mayor Bob O'Dekirk in front of the Jefferson Street bridge on Friday afternoon to decry the lengthy closure of the bridge and its detriment to business and commerce in the city's downtown.
"This bridge provides a vial link to the City of Joliet," said Doug Pryor, vice president of economic development for the Will County Center for Economic Development. "Losing this essential corridor to downtown Joliet for more than a year presents an extraordinary challenge to local businesses and residences."
The Jefferson Street bridge was initially closed after going down in June of last year and the Illinois Department of Transportation told city officials it would be a two-month closure, according to O'Dekirk. IDOT officials then extended that to April 2021 and just last week city officials were informed by IDOT that the bridge would be down until October 2021.
"We're now looking at a 15- or 16-month closure at best," a visibly frustrated O'Dekirk said, adding that the reopening of Chicago Street and other developments in the downtown area are all for nothing if the bridge isn't reopened.
Making matter worse, IDOT rejected a request from the city to make Cass Street a two-way street until the bridge is reopened.
All agreed with O'Dekirk that this is unacceptable and will only further hurt businesses. "In a year when we've seen so many small businesses fight to stay open, we must appreciate how much we can do to make their life easier matters," Pryor said.
Mike Paone, vice president of the Joliet Region Chamber of Commerce & Industry expressed concern of the wider impact of the lengthy bridge closure. "The situation with the Jefferson street bridge not only impacts our membership that are located in downtown Joliet, but all of our members, their employees and their customers that need to travel back and forth from the east side to the west side and vice versa," Paone said.
Megan Millen, chairwoman of the Joliet City Center Partnership, said she is concerned that the bridge closure could substantially impact downtown business as it is about to spring back to life after as restrictions from the COVID pandemic are being lifted. "We urge IDOT to find a viable remedy to swiftly restore this vital artery into the downtown which has now sat idle since June 2020," Millen said. "Business owners and residents deserve a timely solution."
In addition to making access to both the Rialto Theatre and to Slammers' baseball games at DuPage Medical Group Field, both in Joliet's downtown, more difficult, Judy Mitchell, president of Joliet Junior College said the bridge being done also makes it more difficult for college students who attend classes at the Joliet Junior College City Center Campus.
"There are many barriers to a degree for students," Mitchell said. "Getting access to our City Center Campus shouldn't be one of them."
Greg Peerbolte, executive director of the Joliet Area Historical Museum, said the Jefferson Street bridge closure is far beyond an everyday annoyance or simple traffic problem.
"We stand today in front of a big reminder that the City of Joliet is disconnected, and I think regardless of politics, we should all agree that this is something that needs to be fixed," he said. "Let's work together and make this happen."
O'Dekirk said he is hopeful the press conference sends a clear message to IDOT officials that the need to address the problem is now. He added he is hopeful that IDOT finds a permanent solution to the bridge problem by replacing it.