Volunteers help bring COVID vaccine to Joliet's Black community
By Rex Robinson | 3/25/2021, 6 a.m.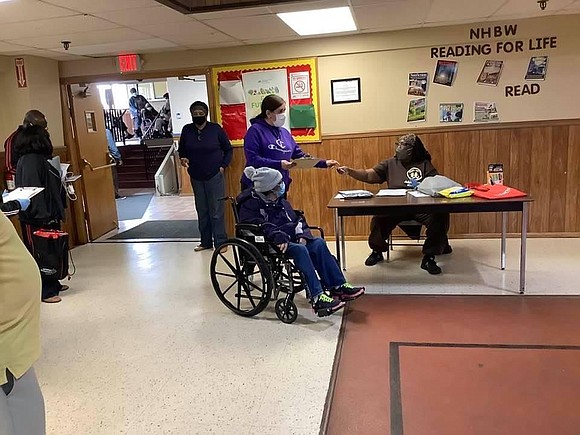 Coming together as a community to bring what is needed most for the people is essential to any project aimed at the greater good. It takes everyone pitching in and going above and beyond to think of others.
That's exactly what happened this week when volunteers joined to set up and distribute COVID vaccines in a Joliet Black community at Mt. Zion Baptist Church, 402 Singleton Place. Nearly 200 doses of the vaccine were given on Monday at the church's first COVID-19 vaccination clinic, which was one of the Will County Health Department's "Strike Team Clinics," according to health department spokesman Steve Brandy. Health department officials will be back at the church on March 27 with another 200 doses of the vaccine. Appointments are fully booked and there is a waiting list, Brandy said.
It took everyone from the National Hookup of Black Women Joliet Chapter, the health department, Lewis University nursing students and many others to make it happen, according to organizers of Monday's clinic.
"Everyone helped and there were only yeses to my requests from the church leadership, technical support, deacons, office staff, health ministry, trustees and janitorial staff," said longtime Joliet resident Gwen Ulmer who helped organize the effort. "I'm so grateful for my Mt. Zion family that everything we needed was in the house."
Getting shots in the arms of everyone from all parts of the region is what it will take to bring the infection rate down and help get back to some sense of normalcy.
"We're contacting lots of different churches and organizations and we've been doing that since the vaccines first rolled out into Will County," Brandy said. "The other big thing we're doing right now is staying in contact with the Illinois National Guard and hope to get them out to Will County very soon to a site that would work best in reaching the most people in need of the vaccine."
According to the Illinois Department of Public Health, 219.049 people in Will County had received the COVID vaccine as of March 23 and 82,123 (12 percent of the population) have been fully vaccinated. Racial/ethnic demographics of the data show 142,088 (64.9 percent) Whites received the vaccine, 15,788 (7.21 percent) were Black, and 23,626 (10.1 percent) were Hispanic. Of those who have been fully vaccinated, 56,214 (67.6 percent of the population) were White, 5,928 (7.13 percent) were Black, and 8,433 (10.1 percent) were Hispanic.
A push is on throughout the country and in Will County to bring equity to vaccine distribution. The county plans to hire a vaccine equity manager to ensure doses of the vaccine are getting out to everyone in the community who wants them.
In addition, as more Illinoisans become eligible for the vaccine and the supply from the federal government continues to grow, Gov. JB Pritzker recently launched a new public awareness campaign directed especially to residents in the hardest-hit communities who are reluctant to take the vaccine.
The public awareness campaign features Illinoisans who have been personally impacted by COVID-19 and are sharing their stories and belief in the vaccine.
The $10 million campaign will reach Illinoisans statewide in both English and Spanish through a variety of traditional and online media channels, including cable, broadcast and connected TV; streaming audio and radio; billboards and bus shelters; digital display and video; print and social media. Like other coronavirus-related expenses, costs are reimbursable by the federal government.