2021 Tribeca Film Fest Returns Live June 9-20
20th Anniversary Celebration is first major US fest to be held in person since start of pandemic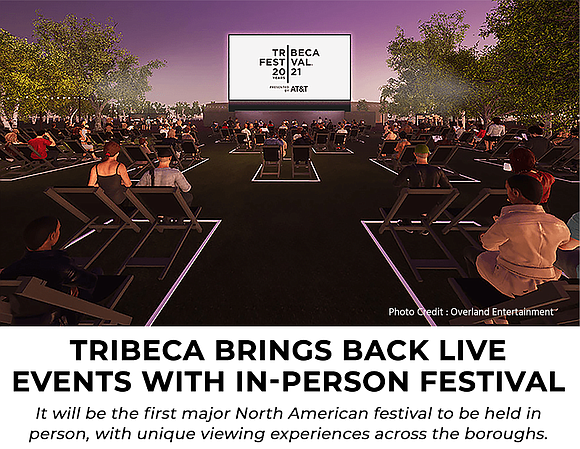 After all of the major US film festivals were either canceled or forced to go virtual, the Tribeca Film Festival is returning 'Live" for 2021 with screenings to be held throughout New York City and its boroughs June 9-20.
Working together with the New York State Department of Health to ensure compliance with COVID-19 safety protocols, the festival will hold in person screenings, Drive-Ins and live events.
The return of the famed festival is once again a sign of rebirth and resilience in the wake of a national tragedy. "Tribeca was born out of our mission to bring people together in the aftermath of 9/11. We're still doing it," said Robert De Niro, Co-Founder of the Tribeca Festival. "And as New York emerges from the shadow of COVID-19, it seems just right to bring people together again in-person for our 20th anniversary festival."
To bring live entertainment back, the 12-day Tribeca Film Festival—presented by AT&T—will host community screenings across all 5 New York boroughs at venues like Empire Outlets (Staten Island) and The MetroTech Commons (Brooklyn), as well as notable New York City spots like Brookfield Place New York, Pier 57 Rooftop, The Battery, and Hudson Yards (Manhattan).
Bringing communities together in celebration of the arts is a mission that's long been a part of our DNA since the festival's founding, said Jane Rosenthal, Tribeca Festival Co-Founder and CEO.
"Tribeca is a community of the most resilient and talented storytellers on the planet. In 20 years, that community of creators and our partners has become a family. This summer we are excited to reunite as Tribeca Film Festival once again becomes a centerpiece for live entertainment in neighborhoods across New York City."