59th New York Film Festival Opens with Joel Coen's 'The Tragedy of Macbeth'
Shakespeare tragedy starring Denzel Washington opens Christmas Day in theatres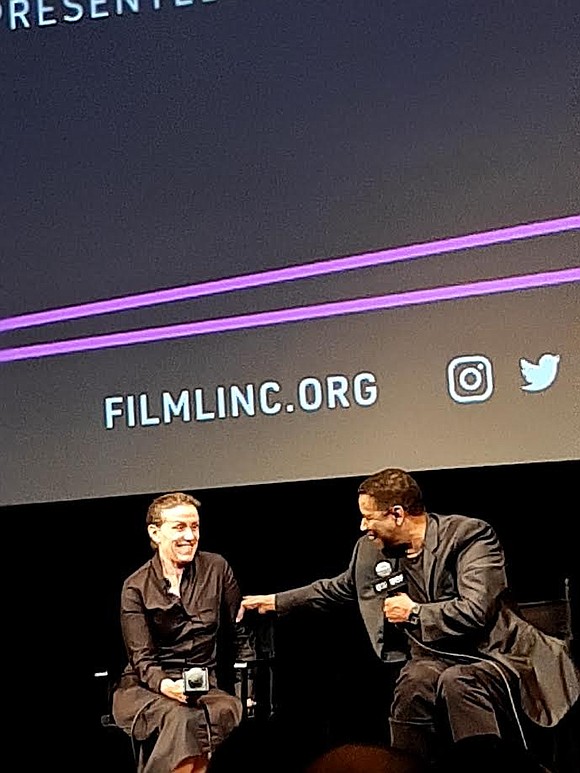 Oscar winning stars Denzel Washington and Frances McDormand were all smiles as they discussed the World Premiere of director Joel Coen's first solo outing, an anxiously awaited screen adaptation of Shakespeare's hauntingly prescient drama, The Tragedy of Macbeth at the 59th New York Film Festival. The festival continues through October 10.
"This is a very fitting punctuation point," McDormand, who plays the manipulative Lady Macbeth and who also produced the film observed. "The first thing that got me hooked on wanting to be an actor for the rest of my life was the sleep walking scene from the tragedy. I first did it when I was 14 and I've pretty much been practicing that scene and rehearsing for it for 50 years. So I kind of feel I had a fatal inevitability to it and the fact that it ended up being sculpted in this way seems absolutely perfect."
Denzel went on to observe how his presence at the early morning news conference on the stage of the Film Society of Lincoln Center Walter Reade Theater within the campus of the famed Julliard School was, for him, coming full circle. "I learned how to act at Julliard," he declared.
In a way, he further observed, the Macbeth project represented a summation of the combined careers of all of the principals on stage. "You've got the Yale/Julliard mafia running it up in here!" he exclaimed, which brought a collective hearty laugh from all.
Filmed in stark black and white cinematography that utilized every inch of the film's 1.33:1 Academy aspect ratio to full advantage, screenwriter and director Coen created a dramatic landscape that is at once cinematic and theatrical at the same time.
"The design was all about stripping it down. This project probably had the longest gestation period of any film I've ever done. Black and white is a way of instantly abstracting an image in a way that everybody understands. It was sort of like German expressionism. The darkness of it. The starkness of it. It was all so simple, yet beautiful."
Coen went on to explain his approach to the film and how he strived to diverge from past screen efforts. "There were other screen versions of Shakespeare that I was trying NOT to do. For example, how many times have you seen a film where the actor recites a soliloquy, but you only hear him in voiceover? In this film, I wanted him (Macbeth) to speak on camera and to be in an at least quasi-realistic context rather than using some other device. In this Macbeth, the soliloquys are parts of actual scenes."
McDormand, who also worked with Coen to produce the film, surmised further. "In most films of Macbeth, the scenes all follow from beginning, middle to end, and they all follow dramaturgically," she explained. "Whereas Joel transposed what was onstage and intercut between scenes, because in film, that just makes it more dynamic. For me, that was what was exciting about his adaptation."
"That's interesting, because in the final scene of the play," Coen observed," Shakespeare, himself; at the end of the play is doing something that is essentially 'parallel editing' in film. He's going from this scene to that scene and back, and they are supposed to be happening all at the same time. He's doing it theatrically, which I find really interesting. In the movie, we exaggerated that effect, because you CAN in a movie. That was another example of how the play got adapted into the movie and how brilliantly Shakespeare was as a dramatist to anticipate that kind of storytelling."
As far casting Denzel as Macbeth, McDormand proclaimed, "You don't make lists about who you want to play Macbeth, she said, motioning toward her co-star sitting next to her. "One is born and you ask him if he'll do it."
Denzel chimed in, "I said 'Yes!' right away. I'll do it! "This is a fascinating journey for me. I went to school a thousand feet from here and played Othello. I didn't know what I was doing. So that's a long thousand feet, but when you're working with such, I won't say old (....'Elders, McDormand chimed in) statesmen and then these young masters (referring to the other cast members, who were also onstage) who were chasing us down. But the cool thing is that we truly were a 'Company,' the way Joel (Coen) and Fran (McDormand) led us.
"For three weeks, we rehearsed. Which is unusual in films. We sat around the table and we each read different roles every time. Joel really threw us all under the bus and we had to sink or swim, and that's what we, and I, as actors live for!
"It's the ultimate challenge." he said of his character, Lord Macbeth, "It's the ultimate reward. Its where I started and where I want to finish."
No one at the news conference really asked about it, but the fact that the film is a shining example of color blind casting is a given. "The cast is diverse, obviously," Coen observed. "But so is the way that we presented it. Not only is there diversity in the casting, but also there's diversity in the dialect and in the background of stage and film that we all bring to it. That's apparent in what the audience sees on the screen.
"The film pays homage to both the theatrical and the cinematic traditions that it sat in," McDormand went on.
Harry Melling, who plays Malcolm, discussed the use of language in the film. " We were talking about dialect. You want the play to ring through and what Joel did was really structural, in terms of getting things out of the way so that you can both 'see' the play and also realize what is going on inside each of the character's souls. That's really hard to accomplish, but I'm sure that all of that rehearsal time, just sitting around the table and allowing ourselves to marinate in the atmosphere of the play was key in that."
Moses Ingram, who plays Lady Macduff said she was in awe of the heavyweight cast and how well they worked together. "I came on set on a lot of days when I wasn't working, just to see everyone else. It was a privilege just to be in the room and 50 years from now, it will always be something to remember.
"We had four colleagues who decided that this would be a final point in their careers," McDormand said of the crew. "So we had a fake ceremony and made these really beautiful medals. We had the sword out and they knelt (of course, we had to help them get back up!). We made them knights and ladies. But, symbolically, this is a perfect punctuation point for me, I know, as well as for several other members of the company."
"I was 56 when I played it at Berkeley Rep" McDormand said of her role as Lady Macbeth. "I feel like there's been a process toward the character for 50 years. I feel really gratified that we were able to capture this role on film this way and really bring our cellular structure to the mix.
" We're really not doing anything new, except for what we bring to it. We really had that in mind when we were recreating these characters."
"There's a built in sense of urgency," Denzel said about the film project. "This is it. This is the last go 'round.''
McDormand then interjected. "That's the other thing about being an 'elder'. I can't believe we did this. I just get choked up about it over and over. To me that's really gratifying. It's really fabulous!"
Well said. Joel Coen's 'The Tragedy of Macbeth' premieres Christmas Day. Make it a present to yourself by going to see it.