Wine of the Week-Mouton Cadet Rose 2020 ($13) and Mouton Cadet Blanc 2020 ($13)
A perfect pairing with French Macarons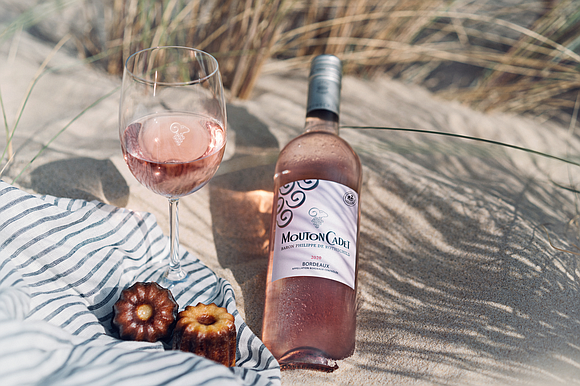 Rothschild is one of the most famous and legendary names in wine in all of France. Dating back to the 17th century, the history of the family vineyards is integral with that of the French Revolution and the subsequent Reign of Terror. It also invokes the names of historical figures, including Thomas Jefferson, who became a life-long customer. In fact a 1787 bottle allegedly owned by Jefferson went for a record price of $156,000 at auction at Christie's in 1985.
That brings us to Mouton Cadet; the family label created in 1930 that is the result of a history between Bordeaux wines and Baron Philippe de Rothschild who was the youngest of the family and owner of Chateau Mouton Rothschild.
Keen to bring the richness of the Bordeaux region to a wider audience, the Baron initiated an ambitious project to bring the best possible quality to wine lovers, preserving the Bordeaux terroir from the grape to the glass. The result is Mouton Cadet.
A marvel of technology, the Mouton Cadet winery is where the wines are blended, matured, bottled and stored. Innovative sourcing policy based on parcel selection and partnerships with over 250 winegrowers ensures wines of consistent quality. Cutting edge technology using parcel selection policy is reflected in the vat house. The wines are kept separate until final blending.
Mouton Cadet wines are completely homogenous and consistent. Frequently tasted and constantly analyzed, the wines are controlled from the vineyard to the bottle.
Mouton Cadet wines are perfect with food. They are also perfect for fun. One of the delights of my trips to France was indulging in French Macarons, a decadent confection made from tiny round sweet meringue wafers sandwiched around a filling of soft, sweet flavored meringue. Each individual cookie is known as a macaron shell. Made with almond flour, egg whites, sugar and various flavorings, they are a testament to the baker's art. They can be made at home (the recipe, though straightforward, is time consuming and tricky), but why bother, macarons can be readily had at your local Whole Foods. There are also a surprising number of shops that specialize in the airy confection that seems to be growing in popularity like wildfire.
The lovely wines of Mouton Cadet arrive fresh to American shores from the historic vineyards of the Rothschild Family.
The deep pink color of Mouton Cadet Rose is a clue to its origins as a Merlot –based wines with Cabernet Franc and Cabernet Sauvignon blended in. Red berry flavors and intense grapefruit and cherry aromas make this perfect for an afternoon sip with some cheese and cold cuts and sausages. Sushi and sashimi lovers will find this wine is their best friend.
White wine lovers need look no further than Mouton Cadet Blanc. This breezy Blanc from Bordeaux is everything its pale buttercup hue suggests. It's bright and airy with a squeeze of lime on your tongue and delightful aromas of white peaches and nectarines. Its great with seafood. Oysters and salmon come to mind. Its also terrific with dessert and, of course, my new addiction, French Macarons!