Latinx high school students learn how to achieve success with college at Si Se Puede Conference
TTW Staff Report | 10/15/2021, 6 a.m.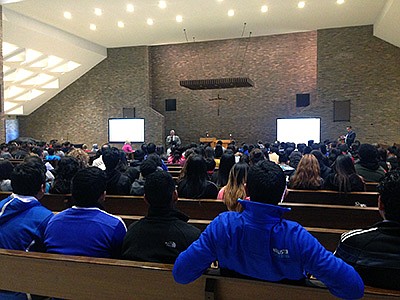 Latinx high school students and their families can prepare for life after they earn a high school diploma with the Oct. 23 Sí Se Puede Conference at the Lewis University main campus in Romeoville. The conference is free and open to the public. Visit lewisu.edu/sisepuede to register or for more information.
From 9 a.m. to 1 p.m. on Saturday, October 23, high school students and families can access tools for educational success with college and other career options. The annual conference empowers and motivates students to pursue higher education, encourages them to overcome barriers, understand that they can achieve their goals, and expose students to a myriad of educational and career paths.
Dr. Joanna Maravilla, assistant professor of Educational Leadership – ESL Program at Lewis University, will start off the day with an inspiring keynote address. The first-generation college student earned her undergraduate degree in Latin American and Latino Studies (LALS). Marvilla recently completed her doctoral degree in the Curriculum Studies program at UIC, where she examined the impact of curriculum and language ideologies on the success of Latinx students in public education. She was previously the Refugee and Immigrant Students Advocate within the Office of Language and Cultural Education - CPS.
Outside of her professional endeavors, Joanna helped co-found and is chair of The Anhelo Project, a non-profit organization providing scholarships to undocumented college students. Since 2010, the Anhelo Project has raised over $250,000 and has awarded over 60 scholarships to students from across Illinois.
All the Si Se Puede conference sessions will be offered in English and Spanish, and include Admissions Review, Financial Aid Information and Multicultural Student Services. The workshops will cover:
· Financial Aid and How to Pay for College?
· How Does My Student stay Healthy and Safe at College?
· How Do I Get into College?
· Supporting our Latinx Students and Families
· Hear the Journey of Lewis University Students and Graduates
This annual event is a partnership between Lewis University faculty, staff, students and additional advocates for higher education, such as Junior Achievement. The Si Se Puede Conference was named after the phrase ¡Si Se Puede! or Yes You Can! This persuasive motto was exclaimed by civil rights leaders Dolores Huerta and the late Cesar E. Chavez to motivate the migrant farmworkers in their pursuit of improved working conditions.