See Punch 9 for Harold Washington-Virtual Screening streams through Sun. Oct. 24@11:59pm CDT at chicagofilmfestival.com.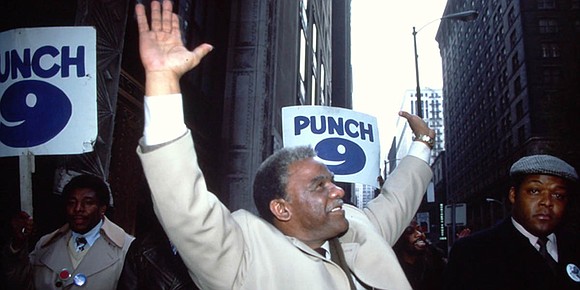 This past April, the City of Chicago celebrated former Chicago Mayor Harold Washington's 1ooth birthday. A film recounting his astounding win received its premiere at this year's Chicago International Film Festival in the Black Perspectives, City and State and Documentary categories. The film can be seen virtually through Sunday Oct. 24 through chicagofilmfestival.com.
It's no coincidence that Chicago's first Black Mayor and the nation's first Black President were celebrated in the same city.
Chicago is the most political city outside of the nation's capitol.
It is also the nation's most segregated city. Even Dr. King was shocked by the virulence rained upon him and his demonstrators during his open housing marches of the Chicago Freedom Movement of 1965-66, led by Dr. King and a very young Rev. Jesse Jackson. "I've never seen such unmitigated hatred," King said of the violence directed at peaceful marchers in Cicero, Gage Park and Marquette Park.
Harold Washington was no stranger to the thesaurus when it came to using lofty words to describe his feelings. He was known for "sending you to the dictionary" in the course of his many public speeches and in personal discourse. When was the last time you heard the words "perspicacity" used in casual conversation? Harold used it regularly.
Director Joe Winston takes a journey through the Second City's racially charged political labyrinth in this probing documentary presented in the festival's City and State, Documentary and Black Perspectives categories.
For 105 minutes, the voices of some of the city's most revered political voices, including that of Dr. Timuel Black, the activist and historian who was one of Washington's long-time friends and advisors, who died at the age of 102 just days before the festival premiere of the film and the late crusading columnist Dr. Conrad Worrill.
Jacky Grimshaw, one of Washington's top aides, walked the red carpet at the Chicago Film Festival premiere, along with Rev. Jesse Jackson, who was anointed by Dr. King as the head of Operation Breadbasket, now Rainbow/PUSH.
For those of us involved in the movement in the years prior to and during Washington's ascendency, it was thrilling to see the likes of political strategist Don Rose, who was Dr. King's public relations man during the Open Housing campaign, and my cousin, Bennett Johnson, a Washington advisor, publisher, and long-time activist.
Director Winston takes you behind the scenes to Washington's humble beginnings in Bronzeville under the shadow of "Boss Daley" and his Stalag 17 rule over Chicago politics, to his days as a student leader in the radical atmosphere of Chicago's Roosevelt University. From there, it was on to the State Legislature and the Halls of Congress.
The film captures Washington's gregarious spirit and boundless energy, which were infectious. "You want Harold," he said at his victory speech. "Well, you got him!"
Washington's hallmark was his thirst for knowledge and his ability to reach across racial lines and social barriers to express a deep empathy and understanding of the plight and concerns of others.
When I was a college student living in Hyde Park near the University of Chicago, my apartment was just a few blocks from Washington's long-time residence at the Del Prado. I had a room-length built-in bookcase filled with black history and philosophy books that I received as a reviewer for a local black newspaper. Harold would often show up at my door unannounced seeking to borrow a book or two. He returned them within a day or two, having completely devoured their contents and he was eager to read more.
Washington's mayoral victory was sealed after he won a bitter racially charged contest against Bernie Epstein in 1983.
"We're not ant-anybody, but anti-evil, anti-racism, anti-segregation," Washington said in his victory speech. He worked tirelessly to rid the city of its reputation as the most politically corrupt in the land, with its reputation for back door deals and nepotism. After all, Chicago is the city where the phrase "smoke filled room" was coined.
Winston's excellent documentary peels away the layers of myth, half-truths and outright lies to reveal the soul of a true crusader and a passionate leader who truly loved his fellow citizens and his city.