Local woman's journey helps bring awareness to breast cancer
Noah Johnson, TTW – news@thetimesweekly.com | 10/20/2021, 10:43 p.m.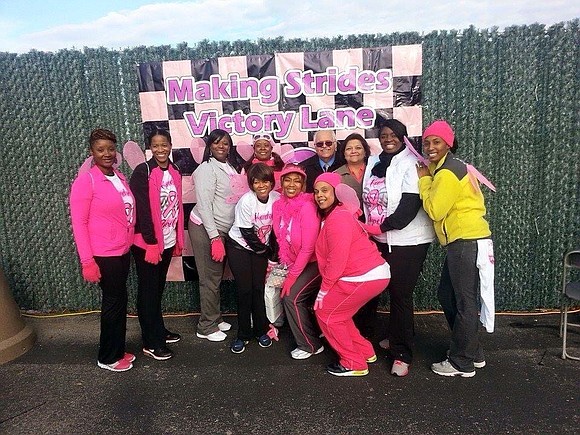 October, which is breast cancer awareness month, is always a time marked by reflection for Kendra Coleman, who was diagnosed a decade ago in the same month. But as she looks back on her diagnosis this year, she also is looking toward the future and ways to inspire others with her story.
"I work every day to try to be an inspiration to someone else, to let my story help them or at least be encouragement to help with prevention," said Coleman, a lifelong Joliet resident. After funding a lump in her breast in 2011, she had surgery to remove the cancer and has taken a medication called tamoxifen to treat the disease. Since her diagnosis, she's been a staunch advocate of breast cancer awareness, hoping individuals can take valuable lessons from what she's been through, she said.
"It is preventable, there are possibilities for early detection, so it doesn't spread, so I've taken my diagnosis as an opportunity to spread the word and educate people," she said of the disease, which kills more than 1,600 people per day in the United States, according to the American Cancer Society (ACS). To reduce the risk of the disease, individuals should lead a physically active lifestyle and maintain a healthy weight.
Over the years, Coleman has hosted fundraiser events to help donate money to ACS, a nationwide health organization dedicated to eliminating cancer. The organization offers many services and resources to cancer patients like free rides to treatment, no cost cancer screenings and cancer information. She chose to support the organization due to the support it offered her during her journey, she said.
"Not having anyone who personally experienced it, I was kind of fending for myself," she said. "I reached out to them, and it was such a bond from day one, from the first phone call. So, I just thought why not support an organization I felt comfortable with, we connected and we're truly about making a difference for the lives of those going through cancer treatments and diagnosis."
She also has given support through the organization Making Strides Against Breast Cancer walk, where she gathered a group of supporters, called Kendra's Angels. The name honors her friends who've lost their battle to cancer and those struggling with their diagnosis. She hopes to bring that idea to the next level with a foundation she wants to establish before the end of the year. Her goal is for the foundation to provide vital resources to cancer patients like transportation and funding.
"We could do much more for the community and it could really live on in helping and being of assistance," she said. "I've done it solo, and I really want to push where it can be more of an organizational outreach."
Screening tests for breast cancer are important to find cancer before a person has any symptoms, according to ACS. They can help find and treat pre-cancers and cancers early, before they have a chance to spread.
According to the ACS, Women ages 40 to 44 should consider starting annual breast cancer mammograms, x-rays of the breast, while ages 45 to 54 should get mammograms every year. Women who are ages 55 and old should get mammograms every two years or so. That kind of screening should continue if a woman is in good health and is expected to live 10 years or more.
Though breast cancer is often found in women, men can get it too, according to the U.S. Centers for Disease Control and Prevention. About 1 out of every 100 breast cancers diagnosed in the U.S. is found in a man. If several members of an individual's family have had breast or ovarian cancer, or if one of their family members has known genetic mutations called BRCA1 or BRCA2, they should consult with their doctor about breast cancer risks.