Warehouse Workers group want 'community-driven solutions' to water cost
By Rex Robinson | 10/28/2021, 6 a.m.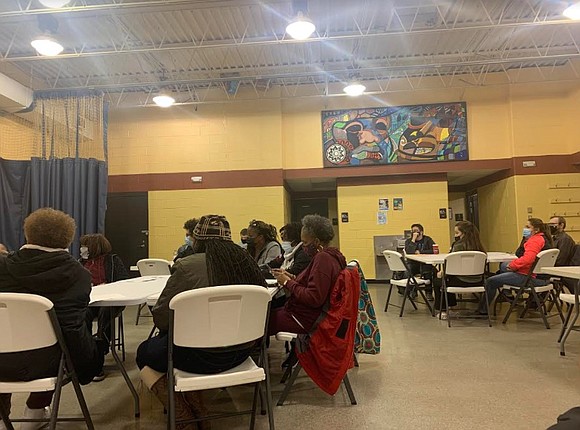 A proposal to bring Lake Michigan water to Joliet via a pipeline from Chicago in the future has some balking at the projected high cost and who should bear the brunt of that cost.
At a meeting on affordable water hosted by the Warehouse Workers for Justice at the Hartman Recreation Center, youth leaders from the group discussed what they believe are the root causes of the water crisis in the city and the rising costs of water due to aquifer depletion and outdated infrastructure.
Members of the group said the City of Joliet is planning to triple water rates due to sourcing water from Lake Michigan via Chicago and discussed potential "community-driven solutions to the rising costs of water service. The community members said major corporate actors in Joliet are putting extra burdens on Joliet's water system while "paying the same rates as working-class residents."
According to information obtained from a Freedom of Information Act request filed by Warehouse Workers for Justice, Amazon alone used over 100 times more water than an average Joliet household in 2020. At the same time, these companies are seeing record profits during the COVID-19 pandemic. For Amazon, 2020 was their most profitable year ever.
Councilman Larry Hug told The Times Weekly that now is the time to make the move to Lake Michigan water for Joliet.
"If we don't get on board now, the increase we will have would pale in comparison to the increase we'd see if we waited until the last minute," Hug said
Joliet's water crisis and enacting fair water rates for residents was a major issue for Cesar Guerrero, during his campaign for city council. The councilman also attended Monday's community meeting.
Ericka Gonzalez-Guzman, a member of WWJ's Environmental Justice Leadership Committee, and an Environmental Science Undergraduate at Loyola University said Monday night's meeting was a "breakthrough in community building between organizers and Joliet residents.
"Through conversations we came to the conclusion that there is a need for a cultural shift that empowers residents to demand that their elected officials prioritize affordable access to clean water, instead of letting billionaire corporations like Amazon take advantage of our limited water resources without paying their fair share."
Felix Ortiz, Community Health Navigator with Warehouse Workers for Justice and member of WWJ's Environmental Justice Leadership Committee said as a lifelong resident of Joliet, "it's amazing to see many people taking interest in the ongoing water issues that affect our city. Water is essential to the safe development of life, so it's our duty as members of the community to ensure our leaders are working to provide clean and affordable water to all our families and neighbors."
At a special City Council meeting held in January, the Council voted to select the City of Chicago Department of Water Management to provide Joliet with Lake Michigan water by 2030. New infrastructure will be built near the existing Chicago Southwest Pumping Station to convey water to Joliet via 31 miles of new water transmission mains to be owned, operated, and maintained by the City of Joliet.
"We are excited to partner with the City of Chicago. This decision gives the citizens of Joliet all the knowledge and resources of a system that purifies and distributes over 1 billion gallons of water each day to over 5.3 million residents in northeast Illinois," Joliet Mayor Bob O'Dekirk said at the time. "We are excited to be a leader in the development of a long-term water supply for ourselves and the region. Our future and the future of all who live here will be better because of the decisions we made today."
An important piece of the puzzle moved into place recently to assist Joliet in getting Lake Michigan Water." The cost to Joliet water customers could be lower in the future if the city sells Lake Michigan water to other communities.
In September, the Illinois Department of Natural Resources (IDNR) issued an order granting the City of Joliet a Lake Michigan Water Allocation Permit. This permit allows Joliet to begin using Lake Michigan water as its source of supply in 2030 and establishes annual allocation amounts through the year 2050. Receipt of the Allocation Permit is a major milestone in Joliet's Alternative Water Source Program created to provide a sustainable, reliable, and high-quality water supply for the community by 2030.
The new water supply is required to replace Joliet's existing groundwater supply. Recent analysis performed by the Illinois State Water Survey (ISWS) indicates that the water levels in the deep aquifer used by Joliet and other communities in the region will decline to a point where local wells will no longer be able to meet the region's water needs. ISWS estimates that Joliet's wells will not be able to reliably meet the community's maximum day water demands by as soon as 2030.