2021 US Open Men's Final-Medvedev slams door shut on Djokovic bid for tennis history
World No. 1 stumbles in bid for calendar year Grand Slam
9/13/2021, 8:52 a.m.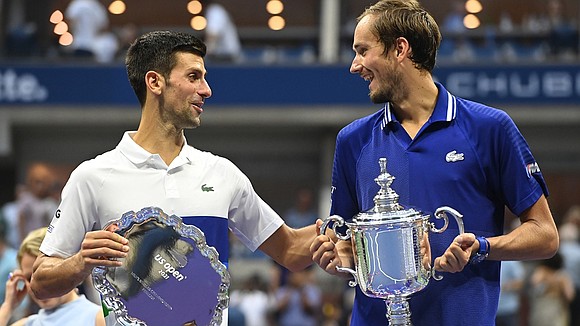 It could have been a movie. Brad Pitt was there, Rod Laver, Oprah's virtual doppelganger Gail King was there, all expecting Novak Djokovic to win the first calendar year Grand Slam in 52 years, a feat that had not been accomplished since Laver did it 52 years ago. Instead, there was an Alfred Hitchcock plot twist that saw the gangly Russian trounce the world No. 1 in straight sets to win the first major title of his career.
The closing shot saw Medvedev playfully floundering to the court surface doing the Playstation FIFA dead fish. A camera cutaway saw Jocko valiantly fighting back tears.
"Tennis is brutal sport," Medvedev told a post match interviewer. "You never know if there's going to be a next one. There is no room for error" An extreme understatement from someone who just walked away with a 2.5 million dollar check for just over two hours work.
"It was my wedding anniversary and I haven't even bought my wife a gift. But my wife used to be in tennis until she was 18, and she said that winning the slam was the best anniversary present she could ever have."
During the match, Jocko seemed to run out of gas going into the second set. His legs just didn't seem to move. "Perhaps he should have skipped Tokyo," one TV pundit posited the morning after. "He just didn't seem to have any gas."
In any event, no one seemed to have anything invested in the Russian Bear winning the Big One. All eyes were on Djokovic. "There's no question that the pressure was all on Novak," Medvedev said in the media interview room session. "When he's under pressure, he's even a better version of himself." Except this time.
"He's (Djokovic) not like any other player. He's the greatest player of all time,: Medvedev further opined. "For the future career, knowing that I beat somebody who is 27 zero and who is going for such a history, I'm not going to repeat it. Knowing that I stopped him definitely makes it (the victory) even sweeter."
Djokovic, had just one word for his loss; "Relief!" "I was glad it was over because the buildup to this tournament mentally and emotionally was just a lot. I was glad the run was over.
"At the same time, I felt sadness, disappointment. "
In evaluating the long season, the fallen champion reflected. "It was a demanding period for me these last 5-6 months. I was simultaneously getting ready for the Olympics all at the same time. Everything was coming together at once and I was accumulating all these emotions.
As far as the future; "For me, I just have to draw a line and be satisfied with the year's three slams and be proud of everything my team and I have achieved and turn the next page. I've learned to overcome these tough losses that hurt the most and be strong and keep going. I will keep riding."