Lyric Opera Chicago 2021/22 Season Opens with Macbeth
David McVicar's chilling, dark new production reflects our time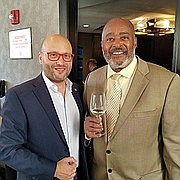 The audience sang the National Anthem through face masks after entering Samuel Insull's gleamingly renovated Civic Opera House (new, wider seats, YAY!), having to present COViD vaccine ID cards. They also had to and remain fully masked the entire performance. Opera lovers have been starving for live-in-person performance ever since the pandemic began 18 months ago and they were like race horses champing at the bit to enter the opera house in sell-out numbers. All doors around the massive perimeter of the Opera House were flung open to let them in.
Sir David McVicar and fellow Scotsman John Macfarlane provided a bracing dose of operatic 'realpolitik' with a grim, dark new production of Giuseppe Verdi's reimagining of Shakespeare's 'Macbeth.' One can almost hear the naysayers mouthing; 'Well, I've seen it before.' No you haven't. You haven't seen THIS one. First of all, Lyric used the 1865 score, the 'Paris version,' not the original that has been often seen at Lyric, The Met, and other opera houses of note. Second of all, McVicar set the opera in the disintegrating confines of a Presbyterian chapel in the mid-19th century, a time of great political and social upheaval in Europe and which is still emanating aftershocks today. In short, Lyric's Season Opening Macbeth is a very fitting reflection of the time we now live in.
Lyric's taut, riveting production takes the audience directly into the vortex of the Thane of Cawdor's madness, sung with unflagging conviction by Bass-baritone Craig Colclough in his Lyric debut. Sondra Radvanovsky's role debut as Lady Macbeth is a revelation. The former St. Charles, IL. Resident gives full voice to Lady Macbeth's relentless, blood-thirst for power, using her husband's cratered moral center to enact her avarice. Her sleepwalking mad scene in Act 4 will certainly be remembered as one of the highlights of the new season.
Lyric veteran Christian Van Horn (more than a dozen roles, including those in Lucia di Lammermoor, La Clemenza di Tito, Faust, Mephistopheles, Luisa Miller, among many others), definitely 'brings it' as Banquo.
Speaking of 'bringing it,' Lyric Opera could not be in better hands than those of its new Music Director, Enrique Mazzola. The Barcelona-born Italian conductor is a Verdi master and champion of bel canto opera. From the moment he wielded his baton in the overture, one could sense his measured devotion to the golden passages inscribed before him in the score. The opening scene of the witches, performed by the Lyric Opera Chorus, directed by Chorus Master Michael Black, establishes the sinister mysticism that reigns throughout.
Enrique Mazzola signed for a five-year tenure with Lyric in 2019, the same year that he was appointed Global Ambassador for the Consortium representing the noble wines of Montepulciano,Tuscany, his home. There you have it, a virtual Renaissance man who is a champion of both great wine and great opera. Chicago could not be more fortunate.