DuSable Museum expands to an education center
TTW Staff Report | 9/23/2021, 6 a.m.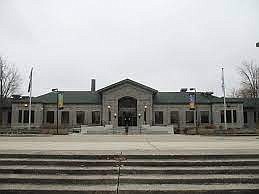 TTW Staff Report
To better reflect its existing mission, the DuSable Museum of African American History will look to become an education center as well as a museum by Juneteenth 2022. The move may also guarantee the 60-year-old institution more financial stability, given the exponentially greater amount of government and philanthropic support for educational organizations than the arts and museums alone.
Museum President & CEO Perri Irmer noted in an interview that what DuSable is attempting is far from unique, pointing out the name and mission of the Illinois Holocaust Museum and Education Center in north suburban Skokie. Once the change happens, DuSable could get more money from the national endowments for the Arts & Humanities, the Institute for Museum & Library Services, and a host of foundations that have a giving profile oriented toward education.
Irmer announced the planned move at an Aug. 28 reception at the museum. She said DuSable's mission has always been to educate the public about African American history. "We are a place to find the truth. Not just a place to see, but a place to learn," she said then. "Not just a place that looks back, but one that drives us all forward to make good history together." DuSable will still be a history museum, but with a higher pedagogical focus.
Dr. Kim Dulaney of the Chicago State University African American Studies Program is building out a new education team. Planning for new education programming is underway, as the "Code Black" panel discussion series on policy issues, a free Drum Talk Book and Literary Fair on Saturday, Oct. 9, and Black history curriculum for corporate and classroom use.
"Rebranding is really more of a clarification or an emphasis of what's always been a core mission, but we believe that by really emphasizing it, putting it in our name, reframing to some extent, our mission statement to emphasize education first and foremost, that we will better serve our African American community," Irmer said in the interview. "It's our hope that we will be able to undertake higher-level initiatives on the educational and policy side. We are of course always looking for opportunities to collaborate," she said. Irmer's six-year leadership has been twisty, but she stressed that this is the right thing for DuSable.
"We are a Black institution that serves the world," she said. "And our mission is to educate, and we do that through African American history, art and culture. It makes a huge difference who the narrator is of that history, that you have the facts from the point of view of those who lived it, and through a culturally competent lens, and often through a Black Chicago lens, which is unique and impactful in and of itself." To comment or for more go info@thetimesweekly.com