New Football coach named at Providence Catholic High School
9/28/2021, 10:50 p.m.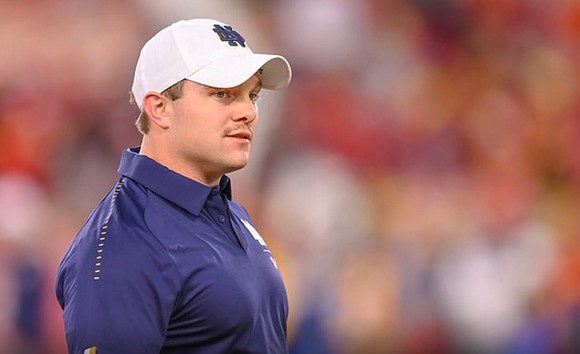 TTW sports

The Providence Catholic Athletic Department has named Mr. Tyler Plantz the new Head Coach of the PCHS Football Program for the 2022 season.
Starting in 2015, Tyler began his Coaching career at Notre Dame under the watchful eye of Coach Brian Kelly. From 2015 until 2021, Coach Plantz was a Notre Dame Football Coaching Assistant, Strength & Conditioning Coach, Offensive Line Assistant, Senior Special Teams & Offensive Analyst and Assistant Director of Football Operations. He had the privilege of being on the sidelines as a Coach during the 2018 Citrus Bowl victory for Notre Dame.
Tyler grew up in the neighboring community of Frankfort. He comes from a strong football background, having been immersed in the sport from grade school through college.
Coach Plantz is a 2010 graduate of Providence Catholic where he excelled in football as a linebacker. He was a member of the 2009 IHSA Class 6A "Runner-up" State Football team. He was captain of that team, Co-MVP, named to the Chicago Catholic League All Conference team, IHSA All Academic State, Chicago Sun-Times All-Chicago team Herald News All-area team. He was also Vice President of the Student Council, a member of the National Honor Society and a Student Ambassador.
Tyler received his Bachelors of Business Administration (Finance) degree in 2014 from the Mendoza College of Business at Notre Dame. Coach Plantz was a "walk-on" for the "Fighting Irish" Football Team. He began on the scout team and eventually moved up to leading roles on special teams and was placed on Scholarship for his Senior season. He participated in the 2011 Champs Sports Bowl, the 2013 BCS National Championship & the 2014 Music City Bowl. He also competed in Rugby and Boxing for Notre Dame and claimed the Heavyweight Boxing Championship.
Coach Plantz' philosophy is "To develop great men through a relationship driven program that is rooted in toughness, accountability, love, attention to detail and faith." He is currently the President of the "Zac Plantz" Foundation in memory of his brother, which champions education, community, leadership, and wellness. "We are excited to welcome Coach Plantz to Providence Catholic as the new head of the football program," states Athletic Director Doug Ternik. "Tyler has a long history of success both on the field and off, and will undoubtedly continue the Celtic tradition of excellence on the field and in the classroom." Tyler and his fiancé Jana Jenkins will be married next year and plan to live in the area.
Providence Catholic High School is one of the most successful high school football programs in the state of Illinois. The Celtics rank 3rd in state football titles with 10 (1987, 1991, 1994, 1995, 1996, 1997, 2001, 2002, 2004 and 2014). They rank 2nd in the state of Illinois for consecutive wins (50) from August 1994-Oct. 24, 1997. The program is also ranked 6th in the state for most overall state trophies in football (37) and is tied for 7th with Most Consecutive Undefeated Seasons (3). The program was rated 13th in the country by USA Today in 2004. The Providence Catholic High School football program was founded by Matt Senffner who served as head coach from 1968-2005, with Mark Coglianese taking over in 2005 until his retirement at the end of this current season. Plantz is the third coach in the program's history. thetimesweekly.com