JTHS Girls Golf Wins SPC Championship
9/29/2021, 10:13 p.m.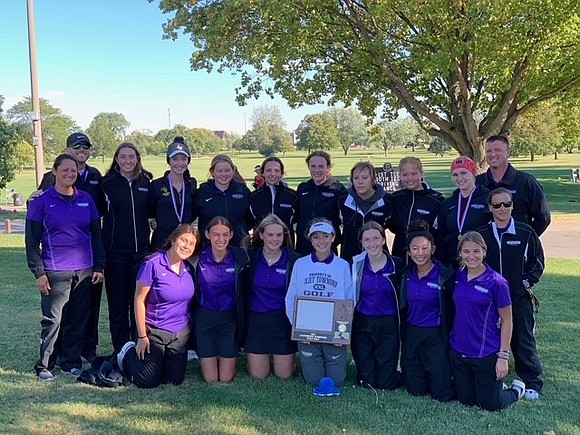 The Joliet Township High School Girls Golf Team won the SPC Championship on September 24, 2021 after finishing 2nd overall at the SPC Tournament with a tournament score of 348. This is the fourth consecutive title claimed by the team who earned wins in 2018, 2019, 2020, and 2021. The SPC Champion is determined by a combination of regular season and tournament play; JT Girls finished 9-0 in the regular season, combined with 2nd in the SPC Tournament to claim the 2021 Title.

"The 2021 SPC Championship is a testament to our JT Golf Family," said Head Coach Jim Grzetich. "We, like many others, had many bumps in the road. Our family stood together throughout all the issues and never made an excuse. Our success this year, like the previous years, is a direct result of the JT families that buy into our program."
All-Tournament Team (Top 15) Jamie Daniels 82; McKenna Anderson (Joliet Township) 86; Mia Hromek 89; Jersy Hauert 91; and Lillian Luangsomkham 91.
All-Conference (Top 20 regular season points & tournament points combined): Jamie Daniels and McKenna Anderson.
The JTHS Girls Golf team is coached by Jim Grzetich, Natalie O'Connell, Jonathan Murray, and Heather Suca.
JTHS Girls Golf team members include Autumn Allen, McKenna Anderson, Jamie Daniels, Reilly Hauert, Mia Hromek, Lilly Luangsomkham, Evelynn Mantia, Mira Marchio, Emily Smith, Sofia Cervantes, Grayce Featherston, Alaina Grohar, Jersy Hauert, Nina Mayfield, and Sydney Prosek.