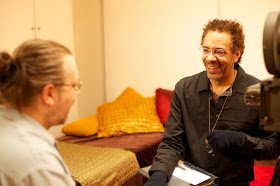 Stories this photo appears in:

JASON AND SHIRLEY LAYS BARE THE TORTURED SOUL OF AN EMOTIONALLY HAMPERED GENIUS
Theatrical Premiere: The Museum of Modern Art, October 19, 2015 Jason and Shirley is a cinematic recreation by NYC-based filmmaker Stephen Winter (Chocolate Babies). Based on Oscar-winning avant garde filmmaker and director Shirley Clarke's groundbreaking documentary, Portrait of Jason, released in 1967 and premiered at the New York Film Festival that same year, winter's version shows all of the stuff that may or may not have happened behind the scenes while the camera was rolling. It's an intriguing concept that takes the old 'fly on the wall' concept to new heights. Jason Holliday, the central character, is black and gay at a time when the legitimacy of both hung in the national balance. At times hilarious, and alternately desperate and heartbreaking, the film is a brilliant reincarnation. Veteran downtown New York actor and filmmaker Jack Waters is superbly cast as Jason and renowned writer and activist Sarah Schulman is spot-on as director and sometime adversary Shirley Clarke (we later learn in the film that her real name is Sarah Brimberg. That her father was a manufacturing scion, and that she grew up on Park Avenue in the lap of luxury). Shirley Clarke was an anomaly of her time and was on the short list of groundbreaking female directors working in the 1960s ; Ida Lupino, an actress (often with husband Howard Duff) and pioneer of the 'film noir' genre, Mai Zetterling, another actress-turned-director, Sara Aldredge, an innovator in experimental film, and Carolee Schneemann, who pioneered films dealing with the issues of sexuality, power and gender. Clarke won an Academy Award in 1963 for Robert Frost: A Lover's Quarrel With the World, and was co-nominee for Skyscraper (1960). Clarke made Skyscraper with two other documentary filmmakers. In 1964, The Cool World became the first independently-made film to be screened at the Venice International Film Festival.