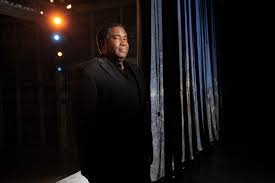 Stories this photo appears in:

HISTORIC PERFORMANCE HIGHLIGHTS CAREERS OF BLACK LEGENDS ON THE CONCERT STAGE
NEW YORK--"In Their Footsteps: Great African American Singers And Their Legacy" was a celebration by the New York Philharmonic of the legendary voices of artists of color from the last century; Marian Anderson, Betty Allen, William Warfield and George Shirley, who was in the audience to receive thunderous adulation. Curated by esteemed Metropolitan Opera Baritone and the Philharmonic's The Mary and James G. Wallach Artist-In-Residence Eric Owens, the concert not only celebrated the voices of the past, but gave attendees an opportunity to hear some of the greatest black voices currently gracing concert stages and opera houses around the globe. African American artists are no strangers to the New York Philharmonic Stage and its newly named David Geffen Hall. Marian Anderson appeared with the orchestra on multiple occasions before her historic debut at The Metropolitan Opera in 1955. William Warfield similarly, was a frequent and beloved figure on both stages. Yet, there is no denying, there is still much work to be done.