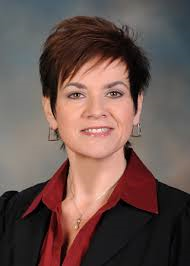 Stories this photo appears in:

Romeoville - State Rep. Natalie Manley, D-Joliet, is again sponsoring legislation that would prohibit employers from asking job applicants about their salary history. "The fact that women and minorities do not receive equal pay for equal work continues to negatively impact those individuals and their families," Manley said. "When potential employers ask someone about salary history, it continues the cycle of paying women and minorities less for performing the same duties as other employees. This legislation will help to get at some of the root causes of salary inequality."

State Rep. Natalie Manley, D-Joliet, is encouraged by recent action taken by Gov. JB Prizker to prioritize women's health by protecting the ability for women to make personal reproductive decisions.

State Rep. Natalie Manley, D-Joliet, will host a Coffee and Conversation on Tuesday, September 4th at the Starbucks located at 261 S. Weber Rd. in Bolingbrook from 10:00-11:00 am. This is the first of several meetings that Rep. Manley will hold at coffee shops and restaurants across the district this fall in order to hear directly from constituents.

With input from her Women's Legislative Advisory Committee, state Rep. Natalie Manley, Joliet, legislation was passed through the House Education: Curriculum and Policy Committee this week aimed at giving teachers additional tools to help students manage emotional trauma.

State Senators Jennifer Bertino-Tarrant (D-Shorewood) and Pat McGuire (D-Joliet) and Representative Natalie Manley (D-Joliet) will be holding a town hall meeting to discuss legislative issues on Tuesday, July 19. The meeting will be held from 5:30 to 6:30 p.m. at the Joliet Public Library, Black Road Branch, 3395 Black Road. "I always appreciate the opportunity to have an open dialogue with my constituents about state and local issues," Bertino-Tarrant said. "I look forward to answering questions from people who attend." "I'm sure residents have questions about the stopgap state budget as well as local projects and concerns," McGuire said. "Let's talk about these things at the July 19 town hall." The town hall meeting is open to the public. Anyone with questions or concerns can join Senators Bertino-Tarrant and McGuire and Representative Manley for a candid conversation about state and local government issues.

State Rep. Natalie Manley wants to hear from veterans and their families and is holding a meeting on May 14 in Joliet.

To remain informed about how state issues are affecting area residents, state Rep. Natalie Manley, D-Joliet, is hosting her Women's Legislative Advisory Committee on Saturday, April 2 from 9 to 11 a.m. at her district office located at 2701 Black Rd., Suite 201 in Joliet. "Continuing to be accessible and engaging my constituents in discussion is extremely important to the work that I do in Springfield," Manley said. "The opinions and suggestions I receive from area residents directly impact the bills that I introduce and how I vote on different measures. This committee is just one way for me to listen to thoughts of area women and gives them the opportunity to directly impact my legislative work." Manley hosts her Women's Legislative Advisory Committee on the first Saturday of every month to maintain constant contact with area women. While the committee is primarily focused on women's issues, the meetings are free and open to anyone who is interested in being involved in the legislative process. The agenda for each meeting is determined by those who attend in order to address their questions and concerns. In addition to this committee, Manley hosts several other meetings that focus on retiree, public safety, and veteran issues, to name a few.