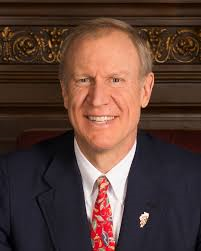 Stories this photo appears in:
Gov. Bruce Rauner signed two bills into law that could help prevent people who are a threat to themselves or others from possessing or purchasing guns. The bills, which have bipartisan and bicameral support, are part of the comprehensive public safety plan that the governor unveiled earlier this year. Rauner's signature on HB 2354 enacts "red flag" legislation giving courts authority to use emergency civil restraining orders to disarm dangerous individuals; and with the signing of SB 3256, the 72-hour waiting period for handguns delivery is extended to all guns purchased in Illinois. At the press conference announcing the bill actions, Rauner urged legislators to get to work on other public safety legislation, including proposals that give schools the ability to hire more resource officers and mental health workers, a point he will make at an event in Dixon later today where he will meet with local law enforcement officials and School Resource Officer Mark Dallas, the Dixon officer who was hailed a hero after he stopped a school shooting there in May.
Gov. Rauner proclaimed June 19, 2018 as Juneteenth Day in Illinois to commemorate the emancipation of slaves in the U.S. On this date in 1865, Union soldiers landed at Galveston, Texas, with news that the Civil War had ended and slaves had been freed. Texas was the last state to get the news of the Emancipation Proclamation. "It is a privilege to celebrate Juneteenth with our African-American communities and work with them to encourage entrepreneurial development and promote a greater appreciation of the contributions that African Americans make to our culture and our commerce," said Gov. Rauner. "Many of those freed by Lincoln's Emancipation Proclamation traveled to Illinois hoping for the promise of jobs and economic opportunity," he said. "They became an integral part of our state, which was the first to ratify the 13th Amendment abolishing slavery in our nation."

Gov. Bruce Rauner signed into law a $38.5 billion bipartisan budget that holds the line on taxes, increases funding for education, curbs spending, and creates a new adoption tax credit that will make it less costly for Illinois parents to adopt children. "For the first time in years, we have an opportunity to manage our way into balance, and we don't have to dip into the pockets of overtaxed Illinoisans to do it," Rauner said. "Balance is in reach because we were able to accomplish $445 million of pension reform and the economy is stronger thanks to federal tax reform, and we are benefiting from an unexpected boost in tax receipts." "I'm signing this legislation because it is a step in the right direction, but it is not perfect," he said. "We have a lot of work to do before we fully restore the state's fiscal integrity. We still need to enact reforms that bring down the cost of government, make the state friendlier to job creators, and ignite our state economy so it grows faster than government spending."

Governor Bruce Rauner has announced several changes to his senior staff that will take place in the new year.

thetimesweekly.com Prior to a meeting of the Illinois State Commission on Criminal Justice and Sentencing Reform, Governor Bruce Rauner, Sen. Kwame Raoul (D-Chicago) and Rep. Mary Flowers (D-Chicago) voiced their support for the General Assembly to pass bipartisan legislation to ensure that any person being released from the Department of Corrections (DOC) or Department of Juvenile Justice (DJJ) has a valid state identification card upon release. "In order to combat recidivism we need to remove some of the hurdles offenders face when they are released from a detention facility and begin to re-integrate into society," said Governor Rauner. "In this case, it's the simple step of providing an offender with a state ID. For a newly-released offender preparing to re-enter society, the importance of having a valid form of identification cannot be overstated, as its needed to do basic
Governor Bruce Rauner said the state has reached a conclusion in the IDOT patronage hiring scandal that began under previous administrations. IDOT gave the remaining staff assistants layoff notices. "Our administration has put an end to the illegal patronage hiring that started under Blagojevich and continued under Quinn," Governor Rauner said. "Since taking office, we have worked for taxpayers to ensure proper hiring at all of our state agencies. This is an additional step to restore citizens' faith in state government so it works for them and not the political insiders."

Governor Bruce Rauner signed an Executive Order directing all references of "ward of the state" or "ward of the Department" within the child welfare system be changed to "youth in care." The order is a direct response to a meeting the Governor had with youth in care who voiced their unease with the label. "Ward" is widely viewed by youth in care as particularly disparaging and becomes a dominant label for their legal status, distinguishing them from other children and youth.

The Will-Grundy Center for Independent Living is thrilled that Governor Rauner has suspended his cruel overtime policy within the Illinois Home Services Program. Secretary Dimas claims the policy saved $5 million. If so, it was a disinvestment in our economy that came at the cost of people with disabilities losing service, personal assistants not getting paid for their work, and personal assistants being forced to abandon their consumers because of the threat of termination. A true benefit to taxpayers will come not from cuts, but from an investment in the

Governor Rauner visited the home in Quincy following the confirmation of a 2nd case of the disease.

Following a judge's ruling striking down a ballot initiative for independent legislative maps, the Governor is calling for a constitutional amendment that would term limit legislators in Springfield.

Bills aim to prevent "over-testing" of students and give teachers more flexibility with professional development hours.

Rauner was elected in 2014. Foster represents Illinois' 11th district.

Governor Bruce Rauner signed Executive Order 16-05 creating the Health Care Fraud Elimination Task Force. The Task Force will take a holistic and comprehensive approach in the prevention and elimination of health care fraud, waste and abuse in taxpayer-funded programs. Governor Rauner made today's announcement at the Annual Ethics Officer Conference, hosted by the Executive Ethics Commission. "Reducing fraud and waste is critical in state government to ensure we are delivering the best value to consumers and taxpayers," Governor Rauner said. "For the first time, we are bringing program-specific and agency efforts together to collaborate and take a multi-pronged approach to preventing and eliminating fraud, waste, and abuse." The Task Force will study and utilize the best practices of these agency fraud prevention

Governor Bruce Rauner granted eight and denied 152 clemency petitions. About 650 petitions remain from previous administrations. The 160 clemency petitions Governor Rauner acted upon recently are part of dockets dating back to April 2012. This is the ninth set of petitions the governor has reviewed since taking office. Each person granted clemency has recently undergone