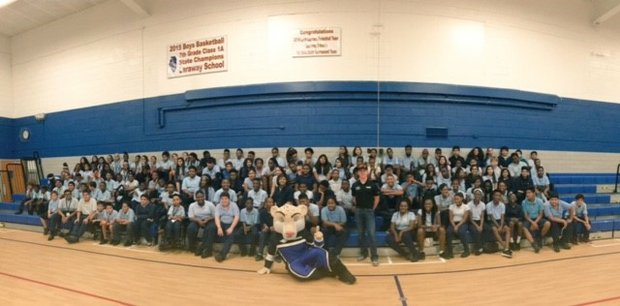 Stories this photo appears in:

Middle school students to embark on a reading adventure to enrich and enhance the educational experience during the 2016-17 school year
Chicagoland Speedway visited Laraway School District 70C today with a special guest to help kick off the motorsports-themed reading program, "Racing to Read." Fresh off his Sunday win, NASCAR Camping World Truck Series driver John Hunter Nemechek accompanied Chicagoland Speedway president Scott Paddock to inform the sixth, seventh and eighth grade students of the return of this educational initiative. Nemechek delivered two tickets to each student for the American Ethanol e15 225. With the tickets, students are able to visit the speedway with a parent or guardian on Friday, Sept. 16 to watch their Nemechek compete for his place in the NASCAR Camping World Truck Series Chase.