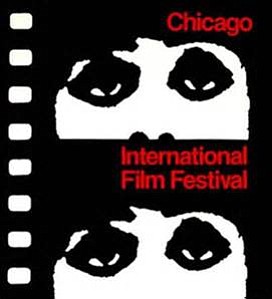 Stories this photo appears in:

The Chicago International Film Festival taking entries are now being accepted for all programs of the Festival's 55th edition taking place October 16-27, 2019.

The Chicago Film Festival continues through Thursday, Oct 26 at the AMC River East 21, 322  E. Illinois Chicago....... Visit chicagofilmfestival.com or call 312-332-FILM (3456) for tickets and info
What's Playing? If you've ever wanted to travel to other countries but haven't had an opportunity or the finances, the Chicago International Film Festival is a great way to see films from around the world. Moviegoers can get a glimpse of the culture and people through the different stories told through the lens. The festival is going on now through Thursday October 26 at AMC River East 21, theater 322 E. Illinois Street, Chicago, Illinois Tickets are $15 for regular screenings with discounts for Cinema/Chicago members, students, seniors and $10 after 10 p.m. $8 Weekly matinees through 5 p.m. For more go to chicagofilmfestival.com

CHICAGO--Academy Award-winning British director Steve McQueen (12 Years A Slave) received the Chicago International Film Festival's Lifetime Achievement Award, marking the 20th anniversary of Black Perspectives. As part of A Tribute to Steve McQueen, McQueen talked about his films, which include Hunger, a graphic depiction of the 1981 hunger strike by Irish Republican Army inmates, Shame, a stark portrayal of sexual addiction in modern day New York City, and, of course, 12 Years A Slave. All three films starred Michael Fassbender. McQueen, a film school dropout from NYU's Tisch School, is also winner and seven time nominee of the Golden Globe, winner of the BAFTA, PGA and Turner awards. and was awarded the Commander of the Order of the British Empire for his services in the visual arts. He was interviewed at Black Perspectives by Jacqueline Najuma Stewart, Professor of Cinema and Media Studies at the University of Chica When asked how he came about the subject matter for 12 Years A Slave, McQueen explained that Twelve Years a Slave is based on an 1853 memoir and slave narrative by American Solomon Northup , which had been discovered by his wife. The book, as told to and edited by David Wilson, told the story of, Northup, a black man who was born free in New York state, details his being tricked to go to Washington, D.C., where he was kidnapped and sold into slavery in the Deep South. After having been kept in bondage for 12 years in Louisiana.