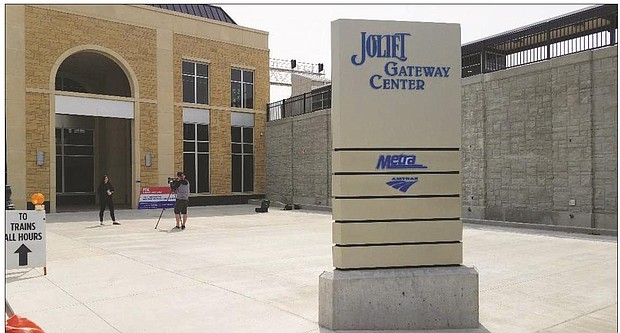 Joliet's Gateway train station opened to commuters on Wednesday with morning riders greeted with free coffee and doughnuts from city staff and public officials.
Stories this photo appears in:

Plans for a coffee shop to operate out of the Gateway Transportation Center are brewing for Joliet. Joliet City Council officials approved a lease agreement with John Georgeouses, the former owner of the Route 66 diner on Clinton Street in downtown Joliet. Members of the council shared excitement during the meeting for the new development dubbed the Treno Café, located at 90 E. Jefferson St.

During the construction of the Joliet Gateway Center, the City temporarily converted the Union Station parking lot (located at the southwest corner of the intersection of Jefferson Street and Scott Street) from an hourly rate lot to a rate of $1.00 per day as a courtesy to commuters.

While there are still a few more details to be completed before it is officially done, Joliet's new downtown train station marked another milestone this week when the main terminal opened to commuters on Wednesday morning.