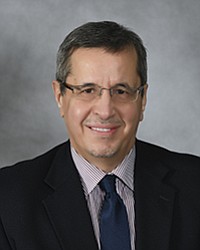 Dr. Maher Mourad
Stories this photo appears in:
Silver Cross host Free program
New Lenox - Do you or someone you know have diabetes? More than 100 million U.S. adults are now living with diabetes or prediabetes, according to the Centers for Disease Control and Prevention (CDC). The recent report finds that 30.3 million Americans – 9.4 percent of the U.S. population – have diabetes. Another 84.1 million have prediabetes, a condition that if not treated often leads to type 2 diabetes within five years. Diabetes is a silent disease that occurs when there is too much sugar in the bloodstream, and if left untreated can harm your eyes, heart, nerves and kidneys. To avoid such harm to your body, Silver Cross Hospital is offering a free lecture on how to maintain good health while living with diabetes.