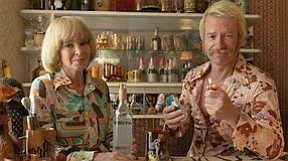 Stories this photo appears in:

Australia Stephan Elliot, director
A primary colors, over-the-top, good-natured, fun romp through 1970s suburbia, a time that seems as far from our own as a fairy tale. Guy Pearce and Kylie Minogue lead the cast of three couples and their children who do almost everything together both at home and at the beach. The parents and their children are two different universes. It's for the viewer to decide which group has the most growing up to do. A sub-plot with a beached whale offers some clues.