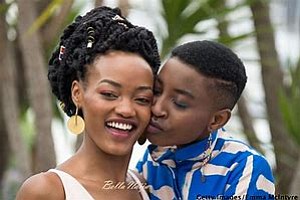 Stories this photo appears in:

Kenya Wanuri Kahiu, director
Rafiki (Friend) is the first Kenyan film to be shown at the Cannes Film Festival. Almost at the same time it was selected, the Kenya Film Classification Board banned the movie entirely. That the movie is subtle and gentle made no difference because gay sex is illegal Kenya, and Rafiki is about two girls in love. Kena is a tomboy with good grades who dreams of becoming a doctor; Blackstra loves her. Ziki is the town beauty; all the girls love her. That the girls' fathers are vying for the same political position makes them particularly visible in their town and exposes them to danger.