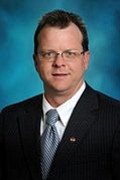 Larry Walsh Jr.
Stories this photo appears in:

Responding to reports that the Des Plaines River Bridge has been rated in critical condition, state Rep. Larry Walsh, Jr., D-Elwood, stressed that the state is taking this situation very seriously. "The dangerous situation at the Des Plaines River Valley Bridge could quickly become a matter of life and death for motorists," Walsh said. "IDOT has been inspecting the bridge every three months and there is $5 million set to come in as early as next month to repair the bridge."

Candidates for Illinois state representative took time to weigh in on the issues ahead of the Nov. 6 election to help give voters a chance to make an informed decision. In the race for the 86th District seat are Republican candidate Rick Laib and incumbent Democrat Lawrence "Larry" Walsh, Jr. As for the 98th District, those vying for votes are Republican nominee Alyssia Benford and incumbent Democrat Natalie Manley. Among the issues candidates discussed were property tax relief and the State of Illinois' pension system. "The most pressing issue is the property taxes primarily, of course, because of the lack of education funding," Benford said. "It's impact the home values. We have a lot of foreclosures in our district, but we do have a lot of homeowners who have had difficulty selling their homes because of the property taxes." Benford said one obstacle to creating property tax relief is the state of Illinois' pensions.