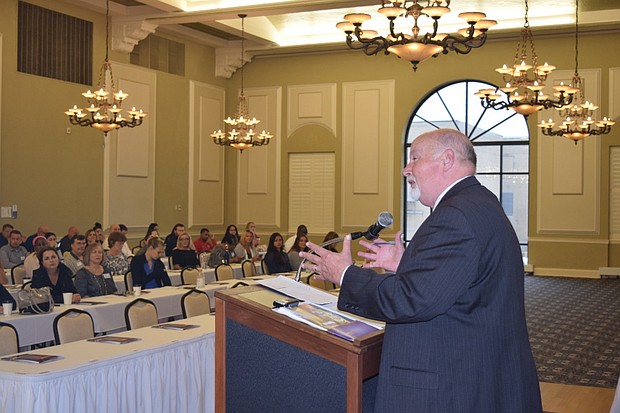 Ken Grey, Chief Deputy of the Will County State's Attorney's Office, welcomes attendees before the morning session
Stories this photo appears in:

State's Attorney James Glasgow hosted a Child Sex Trafficking Summit on Friday to outline strategies to end the horrific exploitation of our children. The summit was held in conjunction with the Will County Children's Advocacy Center and the National Criminal Justice Training Center, It drew more than 100 law enforcement officials, educators, business and industry leaders, prosecutors, child welfare advocates, probation professionals, victim services advocates, and elected officials. The gathering was designed to foster a dialogue between law enforcement agencies, prosecutors, probation officers, and various social service providers about how they are identifying and interacting with victims of child sex trafficking. These various Will County groups have not worked with children who became victims of organized sex trafficking rings. In most instances, their victims fell prey to online groomers, predators they already know, or individuals they had met on the streets. Overwhelmingly, authorities are learning of these victims through mandatory reporters, such as teachers, medical professionals, or clergy members.