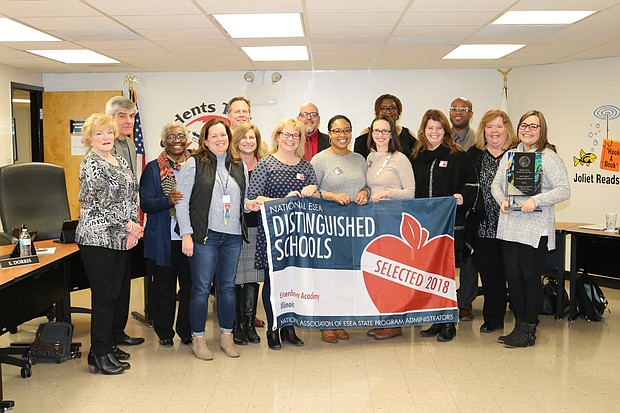 "Eisenhower Board Recognition" – The Joliet Public Schools District 86 Board of School Inspectors recognized the Eisenhower Academy staff at their March 6, 2019 school board meeting for receiving this great honor.
Stories this photo appears in:

thetimesweekly.com The National Title I Association has recognized Eisenhower Academy in Joliet Public Schools District 86 and Washington Elementary School in Marion Community Unit School District 2 as National Title I Distinguished Schools. The Illinois State Board of Education (ISBE) nominated Eisenhower Academy for the honor based on its exceptional student performance for two or more consecutive years. ISBE nominated Washington Elementary School for significantly closing the achievement gap between student groups. ISBE honored both schools at the annual statewide Every Student Succeeds Act (ESSA) Conference Feb. 11-13 in Chicago. The National Title I Association recognized the schools Jan. 31 at its annual conference in Kansas City, Mo.