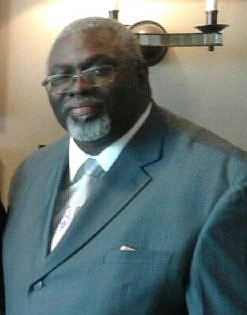 Larry Ivory
Stories this photo appears in:

Updated June 15, 2020
Joliet Mayor Bob O'Dekirk held a press conference at City Hall on June 9 to defend his actions following a protest on May 31 and the scuffle he got into with two brothers on Jefferson Street. A number of O'Dekirk's supporters also came to the podium to defend the mayor during that press conference. One of those supporters was Cornel Darden, who introduced himself as the President and CEO of the South Suburban Black Chamber of Commerce.
Businesses throughout Will County are preparing to reopen Friday under Phase 3 of Gov. J.B Pritzker's Restore Illinois Plan and some of those businesses stayed afloat through the pandemic crisis by receiving loans from various federal and state stimulus packages. That financial assistance came through banks. Not all businesses, however, receive that financial help. This was the reality for many black-owned businesses in Illinois, according to Larry Ivory President and CEO of the Illinois State Black Chamber of Commerce, which has approximately 3,000 members throughout Illinois and an estimated 200 to 300 in Will County. This is especially true, he said, of the Paycheck Protection Program (PPP) offered through the Small Business Administration.